CQC's Sir David Behan to step down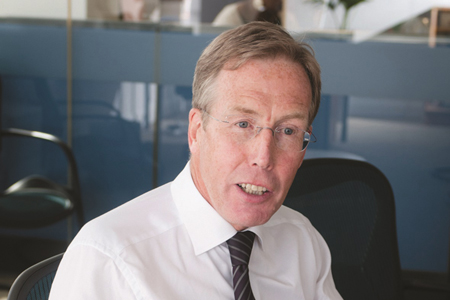 Sir David Behan has announced his intention to step down as chief executive of CQC. He will continue in the role until the summer to allow the appointment process for a successor to take place.
Sir David says: "After six years at CQC and over 40 years continuous employment in health and social care, I will be stepping down in the summer. I am announcing my departure now to allow Peter Wyman and the Board sufficient time to appoint my successor and to allow for a smooth handover.
"It's been an immense privilege to serve the public by leading CQC, and I am incredibly proud of what we have achieved. We've inspected every hospital, adult social care provider and GP practice in the country – over 28,000 services and providers – and in the process developed a baseline on quality that is unique to anywhere in the world.
"Our annual State of Care publication is recognised as an authoritative overview of the quality of England's health and care services, and the National Audit Office recently recognised the progress we have made as an organisation. I now feel it's time to move on, to make a contribution in a different way and to allow someone else to lead the organisation to the next stage of its development."
Peter Wyman, chair of CQC, says: "David has made an early announcement of his intention to step down in order to give us ample time to appoint his successor. For the immediate future, he will continue to lead the organisation as we deliver the next stage of our strategy - using new technology and new ways of working with the public and providers to continuously improve how we assess performance, encourage improvement and checking that people get safe, high quality care.
"I will therefore wait until his actual departure to reflect on his achievements over a lifetime of public service and on the scale of what the organisation has delivered under his leadership; for now, I will only say that David's unique combination of passion, vision and deep understanding of the health and care system - along with his personal commitment to putting people at the heart of everything we do - have led CQC to become a catalyst for change that improves the quality of people's care."
Commenting on the news, Jeremy Hunt, Secretary of State for Health and Social Care, says: "David has been an exceptional leader, and we are lucky to have had him at the helm at such a transformational period in the regulator's history. He is highly respected across the sector for his wisdom, drive and fearless determination to put patients first. He deserves great credit for overhauling healthcare regulation in this country to put quality and safety at the heart of the ratings system. He should be incredibly proud of his record, and will be sorely missed."
Professor Martin Green OBE, chief executive of Care England says: "Sir David has been at the helm of CQC, and a strong leader in this sector, for a significant amount of time. Long enough to put a stamp on the sector and lay the foundations for a system based on proportionate regulation. He is a very fair and principled man who will be missed by the sector."
Glen Garrod, vice president of the Association of Directors of Adult Social Services, says: "We congratulate Sir David on a remarkable career in health and social care, which has spanned more than forty years and had a huge impact on ensuring social services provide quality care to adults with disabilities and older people.
"Sir David's focus on the quality of services across health and social care reflects a lifelong passion to champion the needs of older and disabled people – as a former Director of Adult Social Services himself, and a former President of our organisation, he has seen first-hand the difference quality care can make in transforming the lives of some of our most vulnerable citizens, and we applaud his determination and dedication to ensuring that brilliant care is available to everyone who needs it.
"We wish him all the best in his retirement and thank him on behalf of our sector for his service."
NCF executive director, Vic Rayner, adds: "Sir David Behan has made an outstanding contribution to social care through his leadership of CQC over the last six years. His knowledge and understanding of adult social care and particularly from the perspective of people who use services has shaped and informed his leadership of the regulators responsibility across both social care and health."
Sir David announced his resignation on 15 January with the intention of leaving CQC in the summer.
The recruitment process will begin shortly. The appointment of the chief executive is made by the non-executive directors of the CQC.
Sir David was awarded a knighthood for services to health and care in the 2017 New Year's Honours list. He was presented with a City and Guilds fellowship in October 2016. In 2004, he was awarded an Honorary Doctorate in Law by Greenwich University and in 2003, a CBE.
He was previously the director general of social care, local government and care partnerships at the Department of Health, where he was a member of the NHS Management Board; the president of the Association of Directors of Adult Social Services, and the first chief inspector of the Commission for Social Care Inspection.
From 1996 to 2003, Sir David was director of social services at London Borough of Greenwich as well as a member of the Greenwich Primary Care Trust Board and the Professional Executive Committee. He was first appointed director of social services for Cleveland in 1994.
Other News
Featured Supplier

As experts in Wireless Nurse Call Systems, and in particularly call bell systems for care homes, we'll work closely with you to understand the unique nurse call needs of your care home(s). We'll provide a tailored nurse call solution that allows residents to feel safe and provides key cloud reporting data to aid you in your role of managing a safe...
Upcoming Events
Cardiff, Cardiff City Stadium
9th November 2021