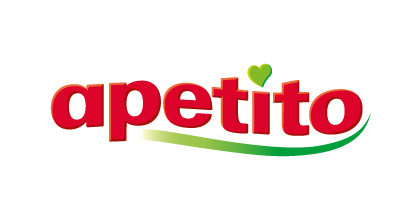 apetito
Canal Road
Trowbridge

Wiltshire
BA14 8RJ
United Kingdom
01225 753 636
COMPANY INFORMATION
Who we are
Here at apetito, we work hard to produce nutritious, great-tasting meals for care homes across the UK.
It's how we bring food and people together that makes us different —and can make a real difference to those who may need it most.
We are dedicated experts - for over 60 years, our chefs and nutritionists have taken pride in catering for specific requirements and nutritional needs without compromising on the delight of a delicious meal.
Every care home is different, and we know what it takes to give your residents a delicious and nourishing dining experience. From choosing your menu to training your team on plate presentation, we partner with you to add in the extras that make all the difference.
Why apetito
Mealtimes are an event for residents to look forward to every day, and this begins with an appetising offering.
With a range of over 200 dishes, our recipes cater for diets influenced by illness, culture, religion, ethical choice, or personal preference. Our chefs update our menus frequently to keep things fresh, while also ensuring they're filled with home comforts such as traditional Sunday roasts and fish Fridays.
Our food is also frozen within an hour of cooking to lock in nutrition, freshness and flavour. This guarantees the nutritional value of the meal when served to your residents – unlike chilled meals, which can deteriorate in nutrition over time.
Our chefs, dietitians and nutritionists work together to perfect recipes that your residents will enjoy and benefit from enjoying. We even carry out regular tasting sessions and nutritional checks to make sure of it.
Once a recipe is perfected, we simply scale it up, ready to serve to all your residents.
Such an appealing choice of food also reduces waste, as there'll be much less left on the plates.
We are committed to our social responsibilities and have developed one of the country's most sustainable production and distribution systems.
As proud supporters of the British food and farming industry, we responsibly source ingredients that meet government buying standards to offer you better quality produce at a fairer cost.
PRODUCTS AND SERVICES
Featured Supplier
We are one of the UK's leading trade only large format graphics and banner printers.  Established as a small sign company in 2008, we have grown in scale and now have 1000's of loyal trade clients in the UK and Europe.  We have developed a trade online hub to cater for your needs quickly, efficiently and as cost effectively as possible.
Our...