Top marks for RMBI Care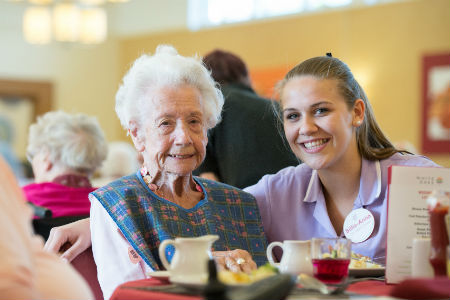 RMBI Care Co has received top marks in a nationwide survey of care home residents; the results showed that 95 per cent of residents living in an RMBI home said that they were satisfied with the overall standard of care.
Among the findings, 97 per cent of residents said that staff treat them with kindness, dignity and respect and 98 per cent said their home is a secure and safe place to live. Of the residents polled, 99 per cent said that they can have visitors when they want to and 97 per cent said their home was clean and tidy.
RMBI Care Co is committed to providing the highest quality of care and encourages the support of family and friends during later life. Their involvement can have a huge positive impact on a person's health and wellbeing and helps residents to stay connected.
The Your Care Rating survey is the UK's largest survey of care home residents, families and their friends, capturing the views of over 18,000 participants across a total of 20 care home providers. With input on the survey from leading research company Ipsos MORI, the care home providers taking part, the National Care Forum and Care England, it is also the most authoritative.
It aims to give care home residents a voice by giving their views through an independent survey. It also helps care providers to see which areas they are performing well in and where they can improve the quality of care.
RMBI Care Co's managing director, Mark LLoyd, says: "The survey results provide our homes with invaluable feedback. We're constantly seeking new ways of providing excellent care for our residents and the best possible service to their loved ones. Their insight helps us to tailor our support to meet our residents' individual needs and we're proud to have once again received exceptionally positive feedback."
Other News