Home hosts 'tea & tech' event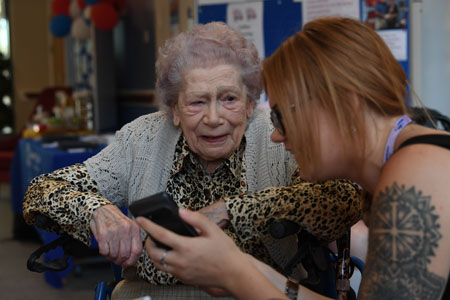 Quantum Care hosted a 'tea & tech' event at Anson Court in Welwyn Garden City to teach older people in the local community how to safely use the internet, increase their digital skills and encourage greater independence.
Residents and visitors from the local community were treated to brunch as they participated in the workshop that had three key themes - connecting people, internet safety and technology for wellbeing.
Aimed at helping older people remain at home for longer, attendees were taught a range of online skills – from small tasks such as online shopping, to offering guidance and advice on internet safety to protect them against fraud.
There was something for everyone, with other sessions exploring how online programmes such as brain games can help to improve mental agility, as well as using Skype to alleviate feelings of isolation among elderly people living alone.
The event was held as part of Anson Court's regular day care service which supports elderly people in the local community by providing a range of activities like food tasting, arts and crafts and fitness sessions.
Day care users are encouraged to meet and interact with new people and staff are trained to provide specialist care for those living with dementia. The day care service seeks to give family carers a short respite break, with peace of mind knowing their loved one is in a safe and supportive environment, as well as tackling social isolation. Quantum Care runs day care services at many of its homes in Hertfordshire.
The 'tea & tech' event was made possible by partners Age UK Hertfordshire, Hertfordshire Police and Ocado, and was supported by the Mayor of Welwyn Hatfield, Councillor Roger Trigg.
Maria Ball, chief executive of Quantum Care, says: "Today has shown how valuable events like this are for older people in the local community. When used correctly and safely, technology can help reduce loneliness and increase wellbeing amongst older people, giving people a greater sense of independence and helping them continue to live at home. These are real outcomes that benefit everyone in Hertfordshire, and we are grateful to our partners for supporting us to spread this important message.
"'Tea & tech' is part of Quantum Care's wider 'technology for living' strategy, which aims to develop and apply technology in a way that directly benefits the lives of older people in the community and the thousands living in our homes."
Mayor of Welwyn Hatfield, Councillor Roger Trigg says: "I am delighted to have been invited to attend Quantum Care's 'tea & tech' event. It is fantastic to see innovative projects such as this taking off in the county and these events are more important than ever. I hope it will bring more people into the digital age."
Other News