Open day brings people together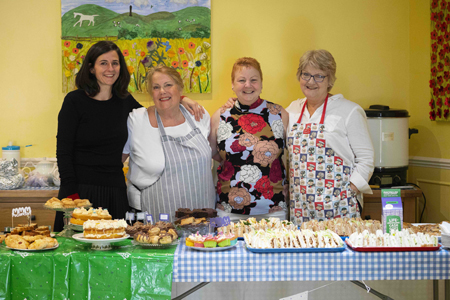 A Wiltshire care home's community open day, which was held to bring people and residents together during World Alzheimer's Month, has been hailed a huge success.
The event, held at Goatacre Manor Care Centre near Calne, took place on Saturday 28 September and saw residents and the local community come together to enjoy a traditional afternoon tea party and a special performance from the Lyneham Military Wives Choir.
Goatacre is a family-run nursing and residential care home, which has been in the O'Dea family for 30 years and specialises in person-centred nursing care.
Steve Oswald, operations director and registered manager at Goatacre, says: "Our Open Day proved a hit with the local community who turned up in their droves to meet, greet and enjoy a great day with our residents.
"We aimed to create 'emotional memories' for our dementia residents and that was certainly achieved. Research by the Alzheimer's Society has shown that despite almost all of us knowing someone affected by dementia, two-thirds of people with the condition report feeling isolated and lonely, so today was a huge success in that it allowed residents to build emotional connections with the community through the choir and tea party."
World Alzheimer's Month, which is now in its eighth year, takes place throughout September and aims to raise awareness and challenge the stigma that surrounds dementia.
Meg Bundock, choir lead of the Lyneham Military Wives Choir, says: "Goatacre was our first performance in a care home and it was absolutely fabulous. The staff were very friendly, and the residents gave a very good response to our singing. There were even some heartfelt moments when the residents began singing along to the songs with us. It was wonderful to see how well our music was received.
"Music helps with memory and when you sing old songs it takes residents with dementia back. Remembering old memories from the music gives them a really good feeling and you can see it in their faces.
"From what I've seen at Goatacre, I think anyone thinking about moving into a care home would be very happy here. It's a lovely place and I would love to be invited back to perform!"
Other News
Featured Supplier

 
 
Wireless Radio Nurse call systems are now commonplace in nursing and residential homes, with Medicare now serving over 100,000 residents around the UK. Due to their ease of installation our Nurse call systems can be quickly and efficiently installed in any home. Our advanced technology has proven to work in the most challenging...