Resident wins card competition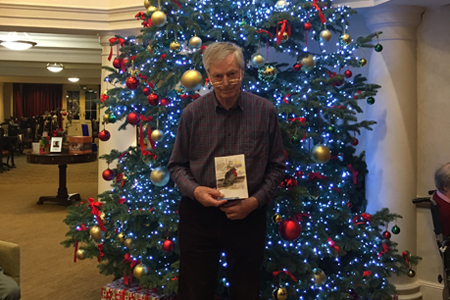 Care home provider Sunrise Senior Living UK and Gracewell Healthcare recently organised a very exciting competition for residents to enter.
Residents across Sunrise communities and Gracewell homes were asked to design the annual Christmas card that the UK CEO, Natalie-Jane McDonald, would then send to all team members.
Overall, 72 residents across the UK entered the competition. Every residents' design had a festive theme, which exemplified their hard work and dedication.
The chosen winner was Robert Sellin from Sunrise of Guildford, after Jackie Pool, director of memory care and Asa Johnson, project manager at Sunrise and Gracewell narrowed down the entries to five finalists.
Suzanne Foody, benefits and reward manager at Sunrise Living UK and Gracewell Healthcare, says: "All entries were of an incredibly high standard and the announcement of Robert as winner delighted staff, as he nearly didn't finish his artwork, but was encouraged to persevere by everyone at Sunrise of Guildford. A huge thank you to every single resident who entered and put in so much work. I know every team member will display the card with pride of place over the festive period."
The competition is just one of many activities in Sunrise Communities and Gracewell Homes that encourages residents to express and enhance their creativity.
Other News