New Care plans for 69-bed Northwich home refused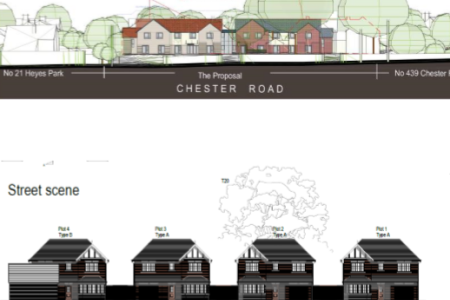 Cheshire West and Chester Council has refused plans by New Care to build a 69-bed care home in Northwich citing over-development of the site.
The council's planning committee voted seven to four to refuse the demolition of three houses and replacing them with a two-story building and four four-bedroom detached properties.
Councillors said the additional four houses would result it a "lack of green space" for care home residents, and that the overall scale of the development was "out of character" in relation to the local area.
The Chester Road development had previously attracted objections based on noise impact and the size and scale of the plans.
Despite the objections, however, Cheshire West and Chester Council planning officers had recommended approval of the scheme.
The Northwich care home plans include 30 single-occupancy bedrooms on the ground floor and 40 bedrooms on the first floor.
Communal facilities include lounges, day spaces and dining rooms on both ground and first floors.
In addition, the New Care home plans include nurses stations, assisted sanitary facilities, a hair salon, kitchen and laundry room.
Other News