Shieldplus no barrier to restoring confidence in care sector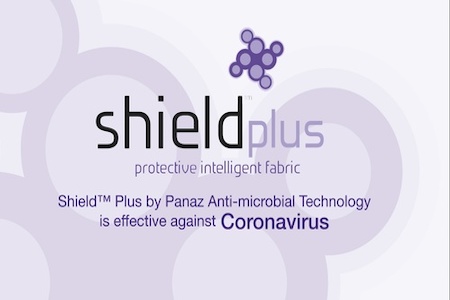 An innovative antimicrobial cleaning system developed by Panaz, a leading manufacturer of technical antimicrobial fabrics, is at the heart of a new cleaning regimen adopted by the UK's largest hotel chain to minimise the risk of surfaces spreading Co
Independently proven effective against 99.99 per cent of enveloped viruses, bacterial and fungal microbes including coronavirus, MRSA, norovirus and E.coli, Shieldplus by Panaz is helping to regain trust among patrons and staff across the healthcare, hospitality, workspace, cruise and education sectors.
The underlying technology, used successfully for over 15 years in the healthcare industry, has been further developed and bottled for use as a multi-surface spray, Shieldplus Protect, and as a laundry additive, Shieldplus Laundry.
Beyond the antimicrobial protection, Shieldplus is helping facilities to save money on excessive cleaning during the pandemic.
Unlike standard antimicrobial cleaners, which evaporate after application, Shieldplus Protect forms a chemical bond with the surface, allowing it to remain 99.99 per cent effective for up to 90 days.
Shieldplus Laundry meanwhile offers protection to clothing and bedding for up to 14 wash cycles.
"Shieldplus was originally developed as a key weapon in the fight against hospital acquired infections and has been used extensively in hospitals throughout the world. We quickly realised its potential benefit in helping to stop the spread of the coronavirus pandemic," said Panaz chief executive Tony Attard.
"Unlike silver-ion or other heavy metal technologies based on poison, Shieldplus is non-toxic and does not leach into the environment," he added.
Since launch, the innovative new technology has been successfully used in a range of settings including major international hotel groups, education facilities, theatres and local authorities who have been able to save considerable time and money on their new Covid-era cleaning regimes without compromising on protection.
The product is available in a range of formats and sizes, including 750ml trigger spray bottles and 5L bulk cans.
Other News
Featured Supplier

As experts in Wireless Nurse Call Systems, and in particularly call bell systems for care homes, we'll work closely with you to understand the unique nurse call needs of your care home(s). We'll provide a tailored nurse call solution that allows residents to feel safe and provides key cloud reporting data to aid you in your role of managing a safe...
Upcoming Events
Birmingham, NEC
13-14 October
London, Epsom Downs Racecourse
19th October 2021
Cardiff, Cardiff City Stadium
9th November 2021
Pavilions Of Harrogate, Railway Road, Great Yorkshire Showground, Harrogate, HG2 8NZ
16th November 2021