The influence of the environment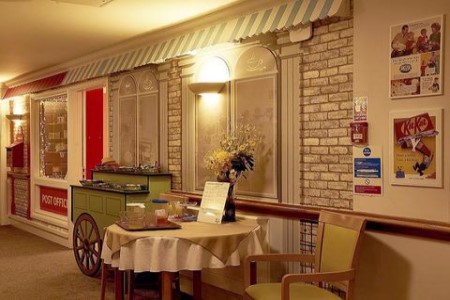 Projects handled by TCHD in its first year of trading, prove the influence of the environment over the entire workings of a care home business.
Two projects, in particular, have proved instrumental in turning around the fortunes of the homes involved.
In both cases, the homes were failing badly on all fronts, but the environmental changes have shown quick and positive improvements on all aspects of the home's performance and effectiveness.
TCHD's owner and creator Peter Rose said 'It was touch and go at first as TCHD's concept goes into a lot more detail of a Dementia Care Home's surroundings, more than anyone has done before, but boy is it worth it!"
"As is often the case, when you look into something really thoroughly it begins to make perfect sense, the hard part is convincing everyone else who is metaphorically looking in the opposite direction for solutions!"
Two insightful managers, prepared to put their faith in the environment, have seen investments with TCHD in the 10's of thousands deliver financial benefits in excess of £1M within the first year.
Creating appropriate location and era-specific surroundings takes time and effort, it's never going to be a solution out-of-the-box and it won't happen overnight. "It would be an impossibly daunting prospect for all but the most dedicated and determined home manager to undertake", Peter continues "it needs patience, experience and different skill-sets. That's what TCHD is here for."
The really big opportunity is to keep care homes in business when they would otherwise be closed.
The recurring themes that feature in failing care homes are;
Regulatory and safeguarding issues
Poor staff/staff, staff/ resident, staff/family relations
Poor staff retention / high-turnover
Reliance on costly agency staff = high cost/poor performance
Poor relations with authorities
Poor occupancy levels
Losing money
Unstimulating, boring environments with nothing to do and nowhere to go.
This is all reflected in residents experiencing low activity levels, poor nutrition, poor sleep patterns, depression, high numbers of falls incidents and high reliance on anti-psychotics and so on.
Creating a stimulating, well-lit, location-specific environment with places to go and things to do can impact on every single one of the negative issues listed above and help reverse the fortunes of a failing home. One senior carer said "Everything we've done has been really positive. Residents have more to do and boredom isn't the factor it was. People are calmer and less agitated because we have things to engage them."
Operators need to get behind this and tackle their dull environments - there's no other word for it. The sector needs this shot in the arm for its own health.
See more about The Care Home Designer
Other News