Hardest-working care superstars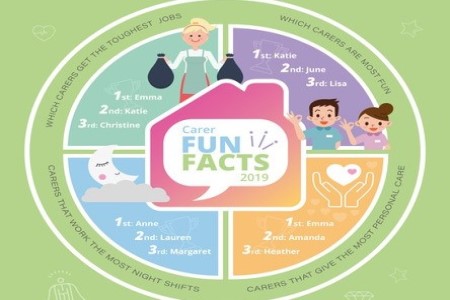 Carers called Emma are logging the highest number of tough jobs, Anne and Lauren are doing the most night shifts, and Katies are logging the most fun activities – according to new data from Log my Care, the care home software provider.
The analysis comes from the thousands of care tasks that are logged every single day by carers using Log my Care, which enables carers to make and record notes and actions in real time. The records also now provide a way for managers to identify staff who are going the extra mile.
The latest data, shown in Log my Care's infographic, included figures for jobs that were categorised as physically tough or manually intensive – for example moving and handling, urine recording and Bristol stool analysis, and practical tasks such as taking the bins out. In this category, carers with the name Emma recorded the highest number of tasks, followed by Katie and Christine.
Personal care tasks included applying creams, dealing with medication, turning of residents or clients, and helping with health-related care. In this category carers called Emma scored the highest again, this time followed by Amandas and Heathers. Meanwhile carers called Anne and Lauren were almost twice as likely to work a night shift compared to other carers.
The data also showed staff recording the most activities – with a huge range of different activities recorded ranging from games of chess to a trip to the zoo. The top scoring names in this category were Katie, June and Lisa.
Tracey Visagie, Registered Manager at Green Gables care home in Margate, Kate, uses Log my Care to manage care records, and comments:
"Log my Care has brought a new dimension to the way we work. I can look into the care logs and really dive into what is being recorded. I have now made the log reports part of my team's appraisal process and have a measurable way to benchmark their performance – and then celebrate and reward all their hard work.
"Although I can see if things have been missed, it's much more about demonstrating positives. The oversight means I can see carers who are working really hard. By highlighting areas of best practice, those carers serve as great role models. The whole experience of working with Log my Care has been incredibly motivating, and I can really feel the positive impact on the whole team."
Sam Hussain, Founder of Log my Care, comments:
"Every single day, care staff across the country are working incredibly hard but too often are not celebrated for their efforts. We carried out an analysis of care tasks and although on the one hand the figures show some light-hearted anecdotes, behind them is the real hard work taking place in care environments every day. Collectively the data is anonymous, but care managers using Log my Care can now see within their own teams the care superstars and those people who are really going the extra mile. This gives a great opportunity to recognise and reward hard work and care, which can all help to support a happy working environment for care teams."
Log my Care is free to use and available to download from both the App Store and Google Play. To find out more and use the system for free, visit www.LogmyCare.co.uk .
Other News