Home displays revered artist's work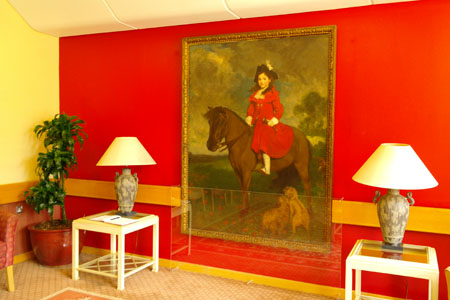 Ben Uri Gallery and Museum and Nightingale Hammerson have announced the first long-term loan of an important work from the Ben Uri collection to a non-museum location.
The loan is part of a new strategic direction by Ben Uri to ensure public access to wonderful works held in storage, which are rarely, if ever, exhibited, for a wide range of reasons. In this case, the painting is simply too large to be shown in Ben Uri's gallery.
The problem of art in store is widespread across UK and international museums. On average, some 90 per cent of museum heritage collections languish in store, unseen by the public at large. Care homes are ideal locations to host some of these works and the two organisations worked together to make it happen.
The picture has particular relevance to Nightingale House through the concept of L'dor va'dor – from the Hebrew meaning 'from generation to generation'. The artist's family have a connection to Nightingale Hammerson through many generations. The artist's daughter, Mary - the little girl on the pony in the painting - lived at Nightingale House in the 1990s until her death at the age of 97. Her daughter Anne lived at Nightingale House and Anne's son, Patrick, has, for many years, been one of Nightingale's doctors. His wife, Judith, recently set up the first Intergenerational nursery in the UK, Apples and Honey Nightingale, at Nightingale House.
Nightingale Hammerson and the Ben Uri Gallery and Museum are also working together on a three year collaborative project. Now entering its third year it is researching the impact of high quality arts interventions on the lives and wellbeing of residents living with dementia. This is bringing art into the home and enriching many of the resident's lives. Early indications show it is making a real impact.
The painting has been hung in the main reception waiting area in Nightingale House in Balham, London. Helen Simmons, chief executive, Nightingale Hammerson, says: "It is a privilege to host such a wonderful painting in our home and we are pleased that it can be on display for all to see. We expect that many residents, families and guests will gain much enjoyment from it."
Other News