Challenging perceptions of art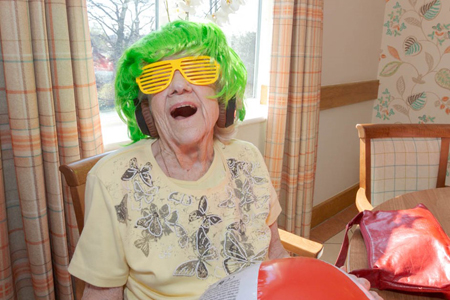 On National Day of Arts in Care Homes on 24 September, arts charity Magic Me has announced a second round of artists' residencies in care homes.
The project, which is funded by the Paul Hamlyn Foundation, will see four arts companies paired with four of Excelcare's Essex based care homes.
Over a period of three years, the arts organisations will work with four care homes in Essex: Longfield in Maldon, Lime Court in Harwich, Sherrell House in Chigwell and St Fillans in Colchester. It will be developing and testing ideas in the first year, delivering the residencies in the second year and then in the third and fourth years ensuring that learning from the project is disseminated and embedded in order to facilitate further artist/care home partnerships.
The initiative was launched by Magic Me in 2015 as a pilot scheme with the aim of challenging the preconceptions of what art in care homes looks like, with this year becoming even more innovative. The arts organisations involved with the exciting and challenging sessions include Matthew Bourne's New Adventures, Fevered Sleep, Gecko and Curious Directive.
Sam Manning, Excelcare's chief operating officer, says: "Care homes and the care of older people continues to change and here at Excelcare we want to be a part of that movement; instrumental in challenging stereotypes, in championing quality and embracing new opportunities. We are very excited to be a partner in this programme and to facilitate this opportunity for both residents and team members."
The sessions will demonstrate a completely new approach to working with care homes. Each residency seeks to create something unique and immersive, with the care home residents as co-creators and collaborators rather than simply participants or audience.
The arts organisations are all industry leaders in bringing original arts ideas alive and this project aims to shake up not just the public's perception of what life in a care home is like, but also the artists themselves who will be exploring a whole new audience and way of working.
The care home management and the team members will also gain a greater understanding of how arts can benefit the people they care for. For the people who live at the care homes, it will help uncover hidden talents and be part of something exciting, creative, collaborative and inclusive.
Excelcare will share the outcome with the other 29 care homes that it runs in Essex, London, Milton Keynes and Cambridge. Carol Preston, home manager of St Fillans says: "It will be great to see the difference it makes to the lives of the people we care for, making moments to treasure. Seeing and hearing the home filled with lots of love and laughter is what St Fillans is all about."
Susan Langford, director of Magic Me, says: "People aged over 75 are one of the most marginalised groups in terms of arts participation. Ageism is still rife and socially acceptable in a way that other prejudices are not, colouring the way older arts audiences are viewed as less important, not open to new work and even not 'on brand' by some arts organisations.
"Care homes are the butt of jokes or feared places of last resort, not people's homes. Thanks to funding from the Paul Hamlyn Foundation this project can start to address these prejudices.
"I passionately believe that just because someone lives in a care home they don't stop being entitled to high quality arts and culture or to a participative experience that is more than just something to pass the time. "
Faiza Khan, director, policy and communications, Paul Hamlyn Foundation, says: "We're excited to see how Magic Me helps to deliver new opportunities for engagement in the arts in unusual and new settings.
"This grant will support Magic Me to extend its artist residencies programme, forge new partnerships and build a legacy of improved access to high quality arts for residents. We look forward to supporting the residencies and to learning from the experiences shared as part of this work."
Other News