Campaigners rewarded by residents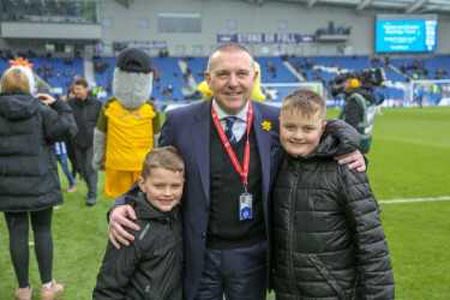 Residents and team members at Sunrise of Eastbourne have treated two local boys to a day out at Brighton Football Club as a result of their inspirational 'Help the Homeless' campaign.
Kyle and Max, aged 10 and eight respectively, were surprised with football tickets for Brighton's home match against Arsenal, to show recognition for their efforts to deliver 124 wrapped presents to homeless people in Eastbourne, Brighton and London before Christmas.
Sunrise of Eastbourne worked closely with the two boys during the campaign, knitting hats and scarves and setting up their own donation fund.
To reward Kyle and Max for their great work, the community got in touch with the CEO of Brighton Football Club, Paul Barber, to organise tickets, but the game was sold out. However, Paul agreed the boys deserved a treat and offered them his own complimentary tickets.
Kyle and Max also had the opportunity to go on the pitch before the game, and meet Man of the Match Lewes Dunk afterwards. They were thrilled to see Brighton emerge as 2-1 victors.
The Help the Homeless campaign has continued this year, with Kyle and Max handing out blankets during the snowy weather, and planning to deliver chocolate eggs over the Easter period.
Residents and team members at Sunrise of Eastbourne are already preparing to help the boys next Christmas, and will continue knitting throughout the year.
The community's engagement with the campaign is one aspect of its focus on providing an active, stimulating environment for residents, in which they can exercise their talents and interests and engage with local people.
Fiona White, general manager at Sunrise of Eastbourne, says: "It has been heart warming to see so many of our residents get behind Kyle and Max's inspirational Help the Homeless campaign, and we were delighted to give the boys such a memorable day out to say thank you for their efforts.
"Their initiative is a great way to bring joy to homeless people throughout Eastbourne and the surrounding areas, and a fantastic example of different generations coming together to help others.
"At Sunrise of Eastbourne we continually strive to engage our residents in creative activities and reach out to the local community, and we look forward to supporting the Help the Homeless campaign in the coming months and years."
Other News
Featured Supplier
Global leader in gas appliance manufacturing
Striving for reliable and consistent quality
In order to supply innovative heating appliances that make our lives more comfortable, Rinnai must develop and provide appropriate products while paying close attention to modern demands and problems. This requires advanced developmental and...