Sunrise of Winchester celebrates rating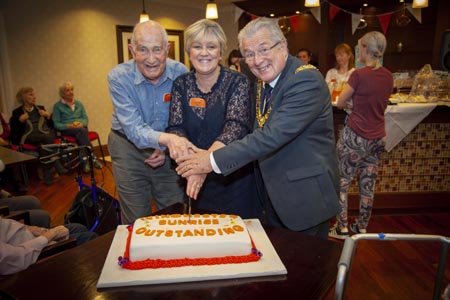 Residents, team members and a range of VIP guests celebrated Sunrise of Winchester's 'outstanding' rating from the Care Quality Commission (CQC) at a party featuring delicious food and drink, and live entertainment.
With Mayor of Winchester, Councillor David McLean, in attendance, guests were treated to a champagne afternoon tea and a performance from a live singer, who delighted all with a series of old classics.
Rousing speeches were given by Councillor McLean, as well as the general manager of Sunrise of Winchester, Sharon Hare and senior director of operations at Sunrise Senior Living, Michael Burke.
The celebration was held to recognise the overwhelmingly positive feedback received by Sunrise of Winchester from the CQC. Its report said the community's aim 'To Champion Quality of Life for all Seniors' was evident in the way people and staff were supported, respected and nurtured.
The CQC also praised the rigorous, high quality training the community provides, and the person-centred care that is tailored to a range of individual needs.
Sunrise of Winchester offers excellent nursing, dementia care and assisted living to all residents, in a dynamic, vibrant environment in which residents are able to fulfil their talents and interests.
Sharon Hare, general manager at Sunrise of Winchester, says: "The special VIP party was a great way to celebrate our 'outstanding' CQC rating, and bring residents, staff and people from the wider area together.
"In addition to delicious food and drink and live entertainment, the event allowed guests to socialise with one another and learn more about why our community is held in such esteem.
"We are determined to go from strength to strength in always improving our care quality, and look forward to welcoming all to many more celebratory events in future."
Joanne Balmer, senior director of care and quality for Sunrise Senior Living UK, says: "We are delighted that Sunrise of Winchester had the opportunity to celebrate its 'outstanding' CQC rating at such a lively, enjoyable event.
"All our team members work tirelessly to provide high quality, person-centred care to all residents, giving them every opportunity to lead a happy, fulfilled life.
"Sunrise of Winchester is a great exemplar of our resident-focused ethos, and we are excited about working with the community going forward so that it maintains its exceptional standards of care."
Other News
Featured Supplier

Founded in 1955, based in Ross-on-Wye, UK. A privately-owned company with over 65 years of British innovation in waste disposal management.
Haigh designs and fully manufactures a well-established range of Haigh bedpan disposal macerators that are trusted by hospitals and care facilities throughout the UK and around the world. The reliable...
Upcoming Events
Cardiff, Cardiff City Stadium
9th November 2021