Tiles and decorative planks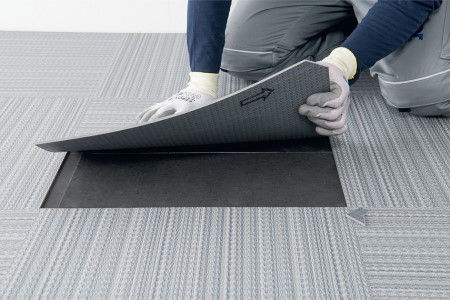 International flooring specialist Gerflor is kicking off spring 2019
by confirming that it's always one step ahead of the competition by launching a range of new collections, new technologies…and a new environmentally-friendly factory.
The global market for vinyl floor coverings has enjoyed strong growth for over 10 years increasingly outselling tiling, laminate and carpet. Well-known among the general public and professionals for their wide variety of designs and the ease with which they can be installed, vinyl floor tiles and planks are playing a key role in driving this success. This growth is seeing great success in all areas, from private homes to public buildings and is set to continue over the next few years. 2019 sees Gerflor reinforcing its position as a long-standing leader of the vinyl floor tile and plank market by launching several new collections which are among the most complete on the market, using new technologies and a new environmentally-friendly production facility… the only one of its kind in the world!
Gerflor is a pioneer in vinyl flooring tiles and panels. In 1985, it launched the first self-adhesive tile, and was the first to take advantage of market demand for decorative flooring solutions, which are easier to handle and install. Since then, the brand has continued to innovate and further expand this product category. Gerflor now has the widest range on the market, in terms of designs, installation methods and accessories, together with customer services (express delivery, expert technical service and on-line design tools). Over the decades, Gerflor has established itself as the leading provider of vinyl flooring tiles and planks for professionals and private home owners.
In order to meet growing demand and ensure that its products are immediately available for retailers, Gerflor has invested over £50M in a brand-new factory. Located in Saint-Paul-Trois-Châteaux in the south of France, this new production facility has a total annual capacity of 10 million m² and features a patented continual production process. Built over a total surface area of 11,500 m2 , Gerflor has established three new teams, working day and night.
Gerflor's new production site is entirely dedicated to flooring tiles and planks and is based on circular economy principles. This new production facility, which features an integrated recycling centre, is among the most virtuous in the world. Up to 55% of the materials used in its products have been recycled. In order to save energy, Gerflor has incorporated an exclusive process inside the Saint Paul-Trois-Châteaux site which enables raw materials to be blended by gravitational force alone. The CO2 emissions per m² manufactured are ten times lower than they are for a standard process. In 2017, Gerflor joined forces with Paprec Recyclage to create Floor to Floor®. This partnership enables Gerflor to enhance its expertise in the circular economy and to increase the volumes of flooring offcuts that it collects and recycles every year. These offcuts are recovered with a view to using them in the manufacture of other products (EuCertPlast-certified, European recycler certification). Gerflor floor coverings can be 100 % recycled at the end of their service life and contain up to 55% recycled material and comply with REACH regulations. Gerflor floor coverings have very low VOC emissions; below detection thresholds, they do not impact indoor air quality and are A+ rated.
Gerflor has always been at the cutting-edge of technology and the latest trends. Their R&D has always been geared towards comfort. They have four research and development centres across the world with a global team of 140 engineers focused on researching new solutions for the floors of the future. Duo Core technology, (their most recent innovation), illustrates Gerflor's ability to create the standards of the future. Duo Core features a rigid interlayer reinforced with fibreglass for maximum floor stability. The flexible surface layer is extremely comfortable to walk on and provides good sound insulation. This technology is totally in tune with the creation of several exclusive 4D designs, with grained, structured surface looks, bevelled edges, a crystal top layer for durability, and an ultra-matt varnish for a natural material effect.
All Gerflor floor coverings offer an excellent compromise between soundproofing, wear resistance, and easy maintenance. Acoustic underlays are available in addition to the Creation ranges to deliver impact noise reductions of between 15dB and 19dB.
Gerflor floor tiling and planking has systematically been ahead of decorative fashions. In the 1990s, standard planks were 1 m long; in 2010, they were 1.2 m long and in 2019, they are now 1.5 m long
By developing formats ranging from XXL to XXS, Gerflor tiles can be used to create bold, modern and graphic layouts, or even arrangements that can mimic mosaics. Although realistic wood effects remain popular, floor tiling panels nowadays deliver a host of incredible effects including; new textiles, cement, metal, sheeting, or rust and copper effects
One of Gerflor's strengths is its own integrated artistic department. This year, it has launched the most complete range of floor tiles and planks available on the market. Aimed at architects, opinion leaders, and professionals, the Creation LVT range offers various formats, designs, and traffic-resistance qualities.
Creation 30 for low traffic, Creation 55 for medium traffic and Creation 70 for high traffic. Featuring natural, understated, modern, and classic tones, or tones based on decidedly contemporary motifs, the Creation ranges are the perfect aesthetic solution for a vast array of applications. These new ranges are based on three powerful trends, identified and interpreted by Gerflor's Artistic Department.
Forestland - draws inspiration from forests, the northern seas, and the simplicity of nature. One of the leading designs is Swiss Oak (Creation 55), which is in line with the trend for untreated natural wood and is available in five attractive tones. Prism - is a reinterpretation of urban living and the geometric lines of city skyscrapers. Derived from this trend the Cementine (Creation 30) design mixes bush-hammered concrete effects with hexagonal motifs.
Tribe - draws inspiration from wildlife, primitive motifs and Mother Earth. At the heart of this trend, the Ponto Cruz (Creation 55) design features interlaced coloured lines which create an appealing textile effect • CREATION 30 offers 38 designs in 58 colours. • CREATION 55 offers 41 designs in 64 colours.
The new Creation collections also feature a huge range of accessories including; skirting boards, sections that match the designs, and special installation tools.
This year Gerflor is also confirming its technological leadership with products specifically designed for each traffic type. Gerflor has developed dedicated solutions for each of the three installation systems to meet the specific requirements of each site with their Clic, Looselay and Dryback systems.
The Clic installation system is recommended for renovations where the installation is on existing underlays. The vertical Clic locking system is a genuine innovation for this type of installation and has been patented by Gerflor. With the vertical Clic system, tiles can be installed quickly, and without bonding. Tile-laying is four times more solid than with conventional lock systems. Gerflor is a pioneer in vertical clip systems and, in 2017, it launched the Clic (R)evolution system, which is the only patented, completely vertical installation system for small and large tiles. One of its key features is its 30% faster installation time, making it the preferred system for installers. In 2018, it was selected for the Red Dot Design Award and for the Plastics Recycling Awards Europe.
The Looselay installation method can be used for entirely free application on surfaces measuring less than 30 m², or with adhesive on the underfloor on surfaces measuring more than 30 m². With this system, the covering can be removed at any time. When fitted on technical floors, electrical ducts can be easily accessed. It offers squared tile formats and can be used for multiple layouts.
For new flooring, the bonded installation system is ideal for new sites. With the new pre-bonded Smartfix underlay, the designs in the Creation ranges can be fitted faster: Greater installation comfort, no smoothing required, and no waiting time and the floor can be used immediately.
Other News