Secret garden unites old and young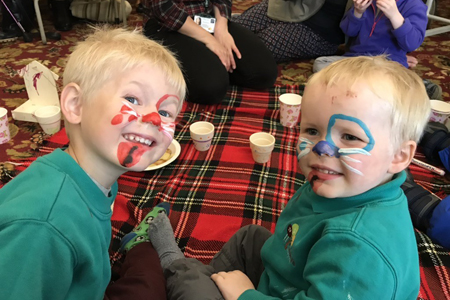 A secret garden at an HC-One care home in Tetbury has opened its gates to provide meaningful experiences for residents and local children from St Mary's Playgroup.
The walled garden at Ilsom House care home provides an educational, safe and secure environment for both children and residents to learn about and enjoy the outdoors.
Members of the community were invited to the official unveiling of the secret garden at Ilsom House on Thursday 25 April and enjoyed a host of themed activities, ranging from flowerpot decorating to treasure hunts and hot cross bun toasting over the fire.
Local councillors and guests from the community also attended the day and enjoyed a high tea with the residents.
HC-One's Ilsom House Care Home has been working in partnership with St Mary's Playgroup to transform the garden into an environment which will help sustain intergenerational relationships and enhance the quality of life for residents and children.
Tracey Connor, Ilsom House care home manager, comments: "Residents and their families thoroughly enjoyed the opening of the Secret Garden.
"The Secret Garden has been specially designed to be as user friendly as possible and provides our residents and their families as well as children from St Mary's Playgroup with an opportunity to nurture the plants, fruit and vegetables that will be grown there.
"The benefits of bringing young and old together is immeasurable and I have no doubt that this beautiful garden will provide pleasure for residents of Ilsom House and children at St Mary's Playgroup for many years to come."
Heidi Bailey, playgroup leader at St Mary's Playgroup, adds: "The afternoon was a great success and everyone described the garden as a 'hidden gem' which can now be enjoyed by all generations.
"We are so grateful to the team at HC-One for partnering with us throughout this exciting project and we look forward to seeing the residents and children planting, watching and laughing together in this very special place."
Other News