RMBI unveils plans for new home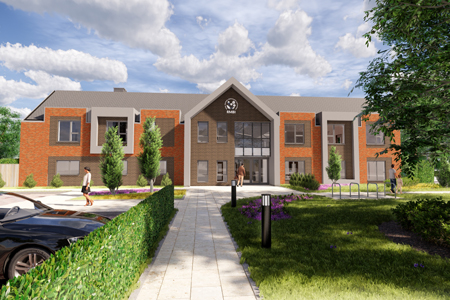 RMBI Care Co has announced plans for a brand new building for Lord Harris Court, an existing care home in Wokingham.
Planning permission has been given to transform the site on which the current 1970s building stands, replacing it with a new purpose built care home and in due course, a retirement community development containing 60 apartments.
The construction for the new care home will commence in January 2020 and will provide 45 placements for residents from the Spring of 2021. During this time the existing Lord Harris Court will continue to operate.
The new home will offer nursing and dementia care facilities with the latest assistive technologies and design to ensure a personalised approach to care and support.
After completion, the existing Lord Harris Court, which has been rated 'good' by CQC, will close to make way for the new retirement community development which will offer a range of one and two bed apartments with leisure and restaurant facilities on site.
Work on the new care home will be in partnership with builder Castleoak who has a long established track record in the design and construction of care homes. This partnership is underpinned by professional consultants including architect Carless & Adams and project manager Faithfull & Gould.
RMBI Care Co managing director Mark LLoyd, says: "We are delighted that our exciting plans for our first new purpose built care home in a decade have been approved. We are committed to investing in our existing care homes as well as creating new build developments which reflect the current and future care needs of older people including specialist end of life care provision."
Other News