Only Care picks Gainsborough bathrooms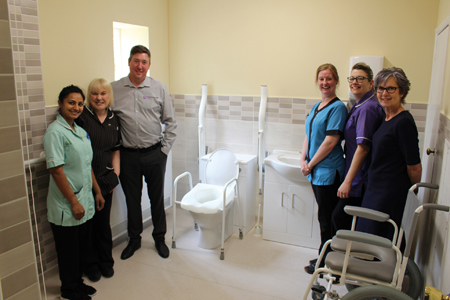 Hollybank House in Oakerthorpe, a 40-bed facility caring for elderly residents and one of three care homes operated by Only Care, commissioned Gainsborough to install a specialist wet room and accessible toilets for enhanced care.
Hollybank House was established as a care home 30 years ago by the late property owner Margaret Bradley who converted the impressive farmhouse and spacious surrounding land so that Hollybank would provide a caring and supportive home for local people.
Only Care Limited acquired the business in 2012 and has continued to deliver a homely and welcoming environment so that service users feel part of a community.
Matt McDermott, Gainsborough wetroom field manager, took the lead on the project. The wet room needed to provide more than six showering cycles per day and continuous toileting. Welcoming aesthetics and efficient moving and handling were also of high importance.
Installation began in February 2019 and work was completed within four weeks, on budget and on time. Jane Brown, registered care home manager, says: "It was imperative that the work did not cause disruption or compromise the wellbeing of the residents, especially as several have dementia. Matt and his team were very mindful of timings so we could continue to operate seamlessly."
She adds: "Most of our residents have limited cognitive abilities and therefore need a warm, safe and reassuring space to bathe. Infection control is a top priority for us and we now have modern facilities that will assist in strengthening hygiene.
"From an access point of view, carers have ample room to manoeuvre hoists and wheelchairs in readiness for toilet or shower seat transfers. Fixtures and features are robust and precisely fitted; overall the wet room boosts clinical excellence yet feels more like a contemporary domestic bathroom."
Chris Ashton, RGN and Only Care Group operations manager, says: "Only Care is very satisfied with the outcome provided by Gainsborough. We pride ourselves on providing care excellence and our new wet room and toileting facilities will enhance this promise.
"From a service point of view, they were efficient and professional and Matt's extensive experience clearly added value to Gainsborough's proposition. Our investment in these quality bathing and toileting facilities by Gainsborough reflects our continual commitment to resident wellbeing."
Other News