Residents showcase artistic skills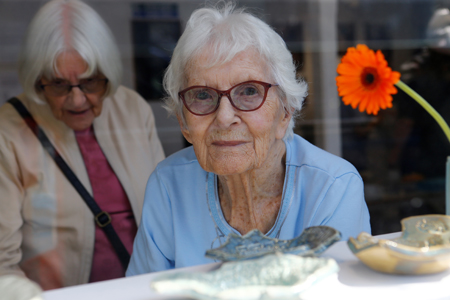 Residents from MHA Bradbury Grange in Whitstable have been showing off their artistic talents in a recent exhibition at a local museum and gallery.
The six-day long display, held at Whitstable Museum & Gallery, has featured various pottery works created by residents at the care home. Each resident produced their own piece of artwork during one of the activity sessions at the home, which were led by local artist Imogen Taylor-Noble.
The exhibition also included two private viewing events, where residents, their families and staff from the home were able to visit, browse the display and show off their fantastic creations.
Beverley Hickey, area support manager, says: "It's been fantastic to see our residents expressing their artistic talents in the sessions. You could see how much they enjoyed getting involved – art is a great way of bringing everyone together, triggering the imagination and boosting mental health and wellbeing!"
"Bringing creative activities such as this to the home is really important to us – we're so glad we've been able to share these lovely works with the local community too."
"Art is just one of the many activities that our residents at Bradbury Grange enjoy, as we work towards ensuring they are able to enjoy later life while living with us."
Other News