Care UK celebrates 'topping out'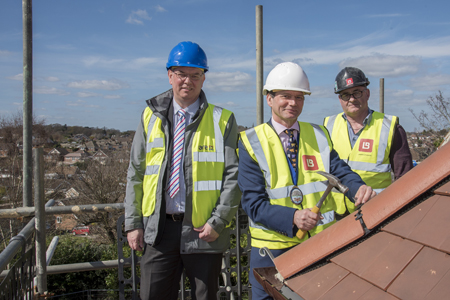 A £5.5 million Hythe care home has marked its latest construction milestone with the help of a special guest.
The Sheriff of Southampton, Councillor Peter Baillie, joined the Care UK team and representatives from construction partner, Lawrence Baker, for a 'topping out' ceremony at Carpathia Grange on Southampton Road.
The purpose-built care home – which is expected to welcome its first residents later this year – will provide full-time residential, nursing and specialist dementia care for up to 62 older people, with facilities including its own cinema, hairdressing salon and café.
Andrew Brett, development project manager for Care UK, says: "As the latest addition to our growing portfolio of care homes, the Hythe site represents a major investment for Care UK and reflects our commitment to improving the provision of residential care in the town.
"I am delighted to have been a part of this milestone as we step ever-closer to opening the doors to the people of Hythe. We are honoured that the Sheriff of Southampton was able to celebrate the occasion with us and look forward to welcoming him back to the care home once complete."
Ryan Farrell, contracts manager for Lawrence Baker, adds: "It is a pleasure working with Care UK yet again to create a welcoming and fit-for-purpose home – we could not have asked for a more cohesive approach.
"We are proud to be delivering a high-quality facility for the local community that will welcome many residents for years to come."
The Sheriff of Southampton, Councillor Peter Baillie, says: "It was a privilege to be a part of this topping out ceremony, marking a milestone in the build of a fantastic facility which has been built with residents and families in mind. Hythe will benefit greatly from this state-of-the-art building that will be a welcome addition for the community, and I'm excited to continue to follow the progress of the care home."
The care home has officially been named 'Carpathia Grange' as a nod to Hythe's history – the RMS Carpathia was a boat captained by Arthur Rostron, who saved over 700 lives, many from the Southampton area, when the Titanic hit an iceberg.
Designed to enable residents to live active and fulfilled lives, while also promoting independence, the new care home will incorporate space for hobby and leisure activities. The layout of the building will be configured into a series of individual suites, each having a dedicated lounge and dining room to help facilitate the creation of close knit communities.
Other News