Mayor joins 'topping out' celebration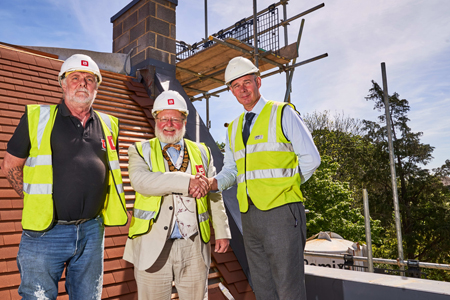 A multi-million pound Bracknell care home has marked its latest construction milestone; the Mayor of the Borough of Bracknell Forest, Councillor Alvin Finch, joined the Care UK team and representatives from Hamberley Development Ltd and Lawrence Baker, for a 'topping out' ceremony at Bickerton House in Bracknell.
The purpose-built care home – which is expected to welcome the first residents in January 2020 – will provide full time residential, nursing and specialist dementia care for up to 77 older people, with facilities including its own cinema, hairdressing salon and café.
Gary Renton, construction project manager for Care UK, says: "As the latest addition to a growing portfolio of residential care homes, the Bracknell site represents a major investment for Care UK and reflects our commitment to improving the provision of residential care in the town.
"I am delighted to have been a part of this milestone as we step ever closer to opening the doors to the people of Bracknell. We are honoured that the Mayor of Bracknell was able to celebrate the occasion with us and look forward to welcoming him back to the care home once complete. I'd also like to say thank you to our developer Hamberely, who've be instrumental in helping us pull this altogether."
John Austin, development director for Hamberley Development Ltd and Danny Dymond, site manager for Lawrence Baker, adds: "It is a pleasure working with Care UK to create a welcoming and fit-for-purpose home – we could not have asked for a more cohesive approach.
"We are proud to be delivering a high quality facility for the local community that will welcome many residents for years to come."
Councillor Alvin Finch says: "It was a privilege to be a part of this topping out ceremony, marking a milestone in the build of a fantastic facility which has been built with residents and families in mind. Bracknell will benefit greatly from this state-of-the-art building that will be a welcome addition for the community and I'm excited to continue to follow the progress of the care home."
Opening in January 2020, the purpose-built care home has been designed to enable residents to live active and fulfilled lives, while also promoting independence. The home will provide full-time residential, nursing and specialist dementia care and will incorporate space for hobby and leisure activities with its own cinema, hairdressing salon and café.
Other News