Barchester Healthcare honours carers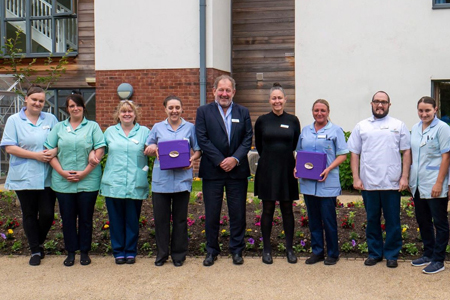 Barchester Healthcare has paid special tribute to carers throughout the company for National Carers Week, thanking them for their dedication to the residents and patients they care for.
Barchester chief executive officer Dr Pete Calveley made a special visit to Bluebell Park Care Home in Derbyshire on Wednesday 5 June where he personally awarded the carers with a Cadbury's gift hamper full of chocolatey delights as a token of appreciation for their contribution at the home.
All of Barchester Healthcare care staff who work across its 200 care home portfolio were also presented with the Cadbury's chocolate hamper to thank them for the contribution they make to the lives of those in their care.
Carers Week is an annual initiative to raise awareness of caring, highlight the challenges carers face and recognise the contribution they make to families and communities throughout the UK.
Pete Calveley said: "Carers have a vital job in the care of residents throughout the home and form very special bonds with the people they look after. They are the day to day face of the homes, working directly with residents and families to ensure the very best quality care and support is given.
"I am very proud of the carers at Barchester. Our carers work hard to provide high quality, personalised care to the people living in our homes and hospitals, often go above and beyond the call of duty and have a huge impact on people's lives. They also offer friendship and comfort to residents and their relatives during what can be a very emotional time. Our carers are the very heart of Barchester."
Other News