LNT Care plans 66-bed home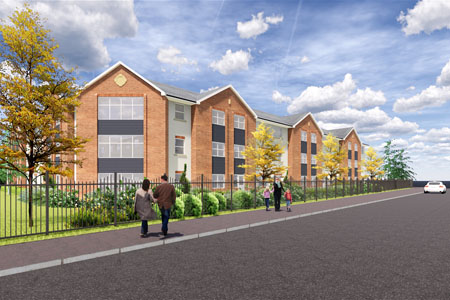 LNT Care Developments has put forward proposals to Gedling Borough Council to build a 66-bedroom care home for those with residential and dementia care needs, as part of a wider 20-acre site at Teal Park which is being developed by Warwick-based AC Lloyd in conjunction with Henry Davidson Developments (HDD).
All 66 bedrooms would be en-suite complete with wet rooms, and if the application is successful, work would start at the site off the Colwick Loop Road in Netherfield towards the end of this year.
The operator has already constructed care homes in Arnold, Bulwell, Newark and Nottingham city centre.
Nick Broadbent, development director at LNT Care Developments, says: "We felt there was a strong requirement for a purpose-built care home with modern facilities and the site has a strong, prominent location.
"We pride ourselves on providing state-of-the-art facilities that improve the lives of our residents by promoting active lifestyles and independence.
"We have submitted the planning application and would hope to hear in the next couple of months. If we are successful, the care home would open towards the end of 2020."
The care home would be part of a mixed use development containing a pub/restaurant, food store, ancillary retail units and children's nursery as well as a 53,000 sq ft trade park for up to 12 units and 141,000 sq ft of employment units across seven premises if the plans are given the green light.
Mark Edwards, managing director of AC Lloyd Commercial, adds: "We are delighted that a nationally-renowned provider of high-quality care homes has committed themselves to this employment generating gateway site, and we hope they will be the first of many excellent occupiers.
"This emphasises their commitment and trust in the development which is already attracting interest from various sectors particularly in the retail industry."
Scott Davidson, managing director of Nottingham and Birmingham based HDD which is delivering the project for AC Lloyd, saiys: "We have worked with LNT on numerous schemes nationwide, and are delighted to have secured them again as part of the important gateway development at Teal Park.
"LNT provide an excellent offer, and the location of the care home provides a great transition from the adjacent residential through to the mixed-use elements of the scheme. Due to the prominence of the care home and the facilities it has to offer, I am confident that Teal Park will be a great success for LNT."
Other News