Dementia champion appointed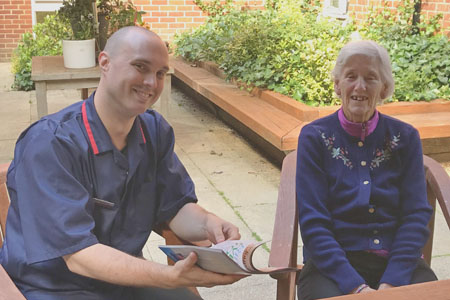 St Mary's Court Care Home in Bocking, near Braintree, has invested in a brand new job role to support people emotionally, physically and socially.
As dementia lead, Matt Harvey-Nawaz will develop St Mary's Court's 24-hour dementia services by keeping abreast of the latest best practice and research, as well as suggesting organisational improvements.
Mr Harvey-Nawaz says: "I'm always looking for the best ways of providing person-centred care, while considering the dual impact of physical and mental health on a person's overall wellbeing."
St Mary's Court ensures its dementia care environments are decorated and furnished to best support those living with dementia. This includes specific colour schemes, room layouts, signage and its secure gardens.
Julia Clinton, CEO of Sonnet Care Homes, the parent company of St Mary's Court, says: "While our dementia services are already well regarded and we have a good level of expertise in this area, as an organisation we are always seeking ways to develop and improve.
"We decided to do this by creating the post of dementia lead to support our three dementia units, one of which provides specialist services for younger adults living with dementia."
Mr Harvey-Nawaz earned a Masters degree in mental health nursing and spent seven years in healthcare before becoming dementia lead at St Mary's Court. This included working with men detained under the Mental Health Act as a trainee cognitive behavioural therapist. He then became a mental health nurse for the elderly before working in nursing care homes with people with dementia and most recently becoming a care home deputy manager.
He says: "What appealed was St Mary's Court's excellent reputation, the fact the home is outstandingly well led, the wonderful, green environment and the award-winning activities on offer for residents."
Other News