State-of-the-art home in Dorset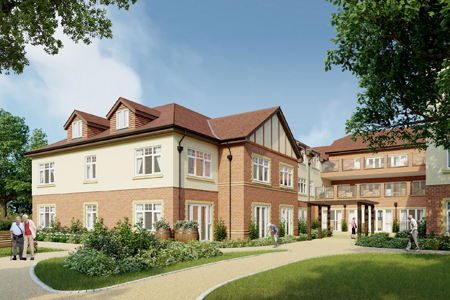 Dorset residents are invited to take a tour of the show home suite at Encore's new purpose built 84-bed care home from 2 September, ahead of its grand opening this autumn.
Oakdale is the latest in an established family of care homes managed by Encore Care Homes to open just minutes from Poole's town centre in Dorset. Encore now manages three care homes in Dorset including Great Oaks in Bournemouth and Fairmile Grange on the grounds of Christchurch Hospital. The business also manages Hamble Heights in Fareham, Hampshire.
The new state-of-the-art residential, nursing and dementia care home based in Kingsmill Road, can accommodate 84 residents and each room is generously sized with a private en-suite wet room, movement-triggered lights and adaptable lighting levels to suit residents' individual needs.
The home's architecture has been designed with resident wellbeing at its core. The building's spacious communal areas, large floor-to-ceiling windows and verandas ensure the home is flooded with natural light, creating a warm and bright ambiance.
The building's layout has also been created to allow residents to spend time with their friends in the numerous lounges that are located on each floor. There are also cosy 'snug' areas in the home to enable residents to enjoy some quiet time for themselves.
Residents will have the opportunity to enjoy the landscaped garden and courtyard and can even get stuck in with the gardening due to the raised flower beds. Encore promotes its 'A breath of fresh care' initiative across all of its homes to ensure every resident has the chance to spend a minimum of 60 minutes per week outside.
Chief executive officer, Rachel Dryden, says: "We are extremely proud of our new purpose-built care home which is the latest addition to our portfolio of state-of-the-art care homes in Dorset. At Encore we invest in both our homes and our team. Our award-winning learning and development programme ensures our teams receive the highest standard of training in order to provide exemplary care to our residents.
"We wanted to incorporate the community into Oakdale and so we have created a public footpath which goes around the boundary of the home which members of the public can continue to use. This is our way of giving back to the community and it will also be nice for residents to 'people watch' while in the garden."
Other News