Kickstart for birthday celebrations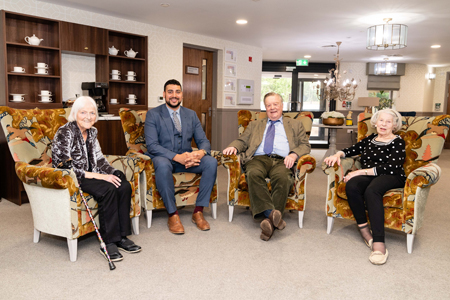 To coincide with Ruddington Manor Care Centre in Wilford celebrating its first birthday, Ken Clarke visited the state-of-the-art care facility to kick start the celebrations.
Situated within Clarke's constituency, Ruddington Manor is operated by New Care. The 66-bed facility has over the course of the past 12 months welcomed more than 50 residents.
During his visit, Clarke met and mingled with residents, received a tour of the home and enjoyed a light lunch with Ruddington Manor's registered manager, Kader Daffe.
Delighted to catch up with Clarke was Ruddington Manor resident Jacqueline Pettengell, whose husband Tom was a county councillor in Nottinghamshire and knew Ken well.
She says: "It was lovely to see Ken again after all these years. I enjoyed catching up with him and talking about the old times."
Retired teacher Barbara Pearce, another resident at Ruddington Manor, was thrilled to meet Ken and talk all things politics, as she had previously stood for Parliament three times.
She says: "Many of the residents at Ruddington Manor enjoyed successful professional careers and were active in politics, so Ken's visit was very much welcomed. After six weeks respite at Ruddington Manor, I didn't want to go home. The environment at Ruddington Manor is so stimulating and everyday I get to have interesting conversations with other residents, which I am sure Ken enjoyed too."
Clarke comments: "Several years ago I opened The Grand in West Bridgford, which is Ruddington Manor's sister care home and as such, I was keen to visit Ruddington Manor and learn more about New Care, what it has achieved and what it plans to do in the locality."
"Ruddington Manor is not a typical care home. It is modern and spacious, and the team has innovative aims, which was certainly interesting to hear about."
Kader Daffe concludes: "I was delighted to welcome Ken to Ruddington Manor and update him on New Care's success at The Grand and its progress here since the home opened 12 months ago. Ken generously spent lots of time with some of the residents, which they thoroughly enjoyed, and showed interest in the facility, its services and clinical offering, which we discussed on the tour."
Pictured (L to R) Barbara Pearce, Kader Daffe, Ken Clarke and Jacqueline Pettengell
Other News