Encore backs dementia project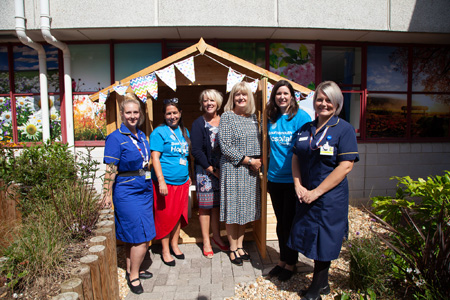 Representatives from Encore Care Homes recently attended a summer garden party at the Royal Bournemouth Hospital to mark the opening of a dementia-friendly summerhouse that it donated to the Bournemouth Hospital Charity.
The summerhouse is now accessible to patients at the hospital and is located within the Petal Garden, a dementia-friendly space, which was created in October 2018. The garden sits adjacent to wards four and five and also includes various planted sections. This new facility is a tranquil area for patients with dementia to relax and find comfort while enjoying the outdoors.
Niki Richards, care and quality director st Encore, says: "It was lovely to join staff and patients, together with their friends and family at the Royal Bournemouth Hospital launch event to witness the grand reveal of the summerhouse.
"Dementia is very close to our hearts, so we are thrilled to help the hospital create a space that patients can enjoy with their loved ones.
"The facility has been designed to encourage positive engagement and interaction. As a specialist residential and nursing care provider, we recognise the value of someone with dementia having access to fresh air and a quiet space, so we are really excited about this project."
Karen Smith, fundraising manager at Bournemouth Hospital Charity, adds: "It is really great to see the garden come together and being enjoyed by patients due to the wonderful fundraising efforts of our corporate supporters, including Encore Care Homes and our individual supporters.
"We'd like to thank them for bringing the garden to life. The summerhouse kindly sponsored by Encore's Fairmile Grange and Great Oaks care homes, importantly, helps prevent patients from becoming confused, as they can see out and what is going on around them."
Other News