Beach party fun at Borough Care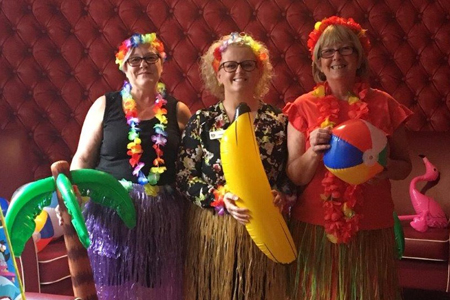 Determined to keep summer going for as long as possible, despite the weather, residents and staff at Borough Care's Silverdale home in Bredbury recently enjoyed a beach party afternoon.
Residents enjoyed playing games, before tucking in to fish and chips followed by jelly and ice cream or lemon meringue pie. No trip to the beach would be complete without an ice cream so later in the day it was ice creams all round. Family members were invited to join in the fun afternoon, which also included a tombola and a book stall. The proceeds from these stalls were put into Silverdale's amenity fund.
Lindsay Hadfield, activity lifestyle facilitator at Borough Care's Silverdale home, says: "Our beach party was a great success and everyone had a wonderful time. Playing games, eating ice cream and enjoying fish and chips helped bring back lots of happy memories of visiting the seaside for our residents.
"At Borough Care, our strapline is 'Life in Colour', as we believe everyone should live a colourful life, and it was certainly a colourful afternoon with brightly coloured inflatables decorating the home and staff dressed up in grass skirts and flower garlands."
Pictured (from left to right): Joanne Tipping, carer, Lindsay Hadfield, activity lifestyle facilitator and Sandra Sutherland, housekeeper
Other News