Home to benefit as local charity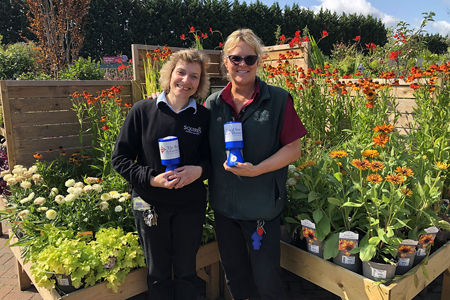 Squire's Garden Centre in Long Ditton has named The Royal Star & Garter Home in Surbiton as its charity of the year for the second year running.
It follows a successful year of fundraising for The Royal Star & Garter Homes from the Woodstock Lane North garden centre in 2018-19.
In total, Squire's Long Ditton raised £1879 for the charity, including £1340 from its Santa's Grotto through a percentage of ticket sales and a bucket collection, manned by volunteers from The Royal Star & Garter Home.
The garden centre also gifted 1000 tulip bulbs which have been planted in the home's beautiful garden.
Residents from The Royal Star & Garter Home, a charity which cares for ex-servicemen and women and their partners living with disability or dementia, are also regular visitors to Squire's Long Ditton where they are treated to afternoon tea at the cafe bar.
Sophie Fanning-Tichborne, partnerships manager at The Royal Star & Garter Homes, says: "We couldn't be happier to be chosen by Squire's as its charity of the year again. We look forward to further developing a successful partnership and raising even more money for The Royal Star & Garter Homes over the next 12 months."
Anne Dedman, manager at Squire's Long Ditton, adds: "Our staff really enjoy supporting such a worthy local charity and love seeing some of the residents for afternoon tea. The assistance provided by the volunteers from The Royal Star & Garter Homes with Santa's Grotto is very much appreciated and we look forward to raising much needed funds for the charity again this year, as well as donating the Christmas tree for its Starlight Service."
Pictured: Anne Dedman and Vicky Raymond from Squire's Long Ditton
Other News