Luxury home opens in Eastbourne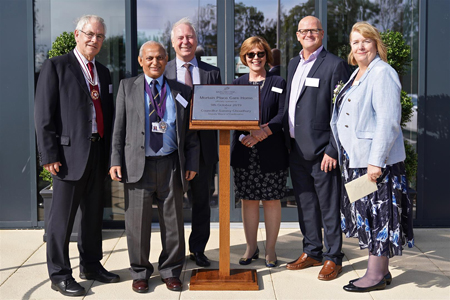 Care home staff and guests were delighted when her majesty's deputy lieutenant of Eastbourne, Mr John Smith JP and deputy mayor councillor Sammy Choudhury officially opened Eastbourne's newest luxury care home, Mortain Place on Pevensey Bay Road.
The deputy lieutenant and deputy mayor greeted the new residents and specially invited guests and gave a speech before unveiling the plaque, marking the official opening on the 9 October. During their visit, guests were given tours of the home and treated to refreshments and entertainment including live music from a barbershop quartet and a harpist.
The new purpose built home, operated by Barchester Healthcare, will provide personalised residential and dementia care for 80 people. Luxury features include a café with orangery, a private dining room, a choice of lounges, spa bathrooms, a life-skills kitchen, a large terrace, a hair salon and en-suite bedrooms with garden access for ground floor rooms. A daily life enrichment programme with an array of tailored activities, a concierge service, as well as delicious and nutritious seasonal meals will also be provided services at the home.
For those living with dementia, the home has a 'magic table' called Tovertafel which is an interactive, multisensory digital learning tool that promotes stimulation and cognitive challenges through specialised games.
Lesley Standing, general manager at Mortain Place says: "We are all very excited about the opening of Mortain Place our newly appointed team have really enjoyed meeting the new residents and their families. We were honoured to have the deputy lieutenant and deputy mayor join us on the day too. It's been an amazing day of celebrating with the wonderful people of Eastbourne."
She continues: "Barchester brings over 25 years' experience in expert care to Eastbourne, which means residents and their relatives can feel safe in the knowledge that they are in trusted hands."
John Smith JP says: "We are delighted and honoured that Barchester has created a new home to take care of our loved ones with the best quality care available. Moving into a care home is one of the bigger decisions we make in our lives so it's a wonderful thing to have Mortain Place join our town."
Other News