Charity celebrates staff loyalty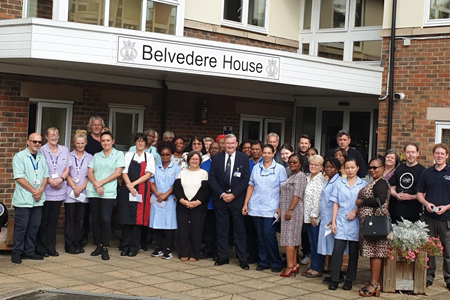 The Royal Alfred Seafarers' Society, which has a workforce of nearly 100 employees, has celebrated almost half of its staff who have collectively dedicated 526 years to the society and its residents.
Some 47 staff members have devoted five years or more to the society and were awarded commemorative gifts, with 19 having worked for the charity for 10 years or more, at a celebratory afternoon tea.
The society, which delivers expert care to former seafarers and their dependants, including those living with dementia, is responsible for around 70 residents at Belvedere House.
Employees from each department of the charity were recognised with the accolade, including care, kitchen and back of house staff. Chief executive commander Brian Boxall-Hunt was also awarded with a long-service badge after 13 years at the society. His executive assistant, Margaret Brazier, who in 2019 celebrates an outstanding contribution of 57 years with the charity, was also recognised for her service to the organisation.
Other senior members of staff celebrating long service at The Royal Alfred include lead activities co-ordinator, Louise Boxall, who has been with the society for 30 years and home manager, Anne Kasey, who commemorated 36 years earlier in 2019.
Compared to an industry average of 23 per cent, The Royal Alfred boasts a very low staff turnover of just 14 per cent, due to its commitment to staff development, career progression and investment in supporting its long-serving workforce.
Commander Brian Boxall-Hunt, chief executive, says: "We are so proud of each and every employee that chooses to dedicate so much of their working lives to the care of our residents here at The Royal Alfred. It's testament to the commitment not just to our home here at Belvedere House, but to the overall social care sector.
"We are grateful to the many friends and colleagues that recognise the fact we offer a career path, not just a job and this is a key component of why they choose to stay with us. We wanted to thank our workforce with a celebratory afternoon tea to mark their dedication and to enjoy the occasion alongside our lovely residents who also appreciate and benefit from their hard work."
Other News
Featured Supplier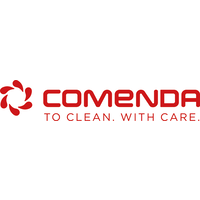 At Comenda we have been designing and manufacturing professional dishwashers since 1963. "Hygiene" and "Safety" are our DNA and have been simply our core objective for almost sixty years. Perfect sanitisation is granted across the Comenda range, allowing a significant reduction in the amount of microbial life on the crockery and guarantee...