Permission granted for Surbiton home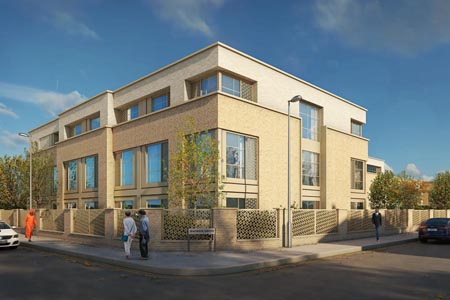 Plans for a new £13.4 million dementia care home in Kingston are gathering pace.
Kingston Council gave the green light for the new £13.4 million dementia home in Brown's Road, Surbiton to be built in March 2018. Following further consultation, the council's Development and Control Committee granted planning permission to build the home in June 2019 and this month the Children's and Adults' Care and Education Committee authorised the implementation of the construction stage.
The council is now another step closer to beginning work on the new 80-bed specialist facility, with demolition of the existing site expected to start in January 2020.
With an ageing population and increased demand for health and social care services in the borough, the new home will help provide care for older people with dementia in Kingston, as well as generate income for the council from those residents who are able to fund their own care.
Stephen Taylor, director of adult social services at Kingston Council says: "Kingston Council is committed to ensuring that there is high quality care available for older residents who need additional support. It is estimated that more than 1500 residents in the borough are living with dementia and this figure is expected to rise to more than 2100 people by 2027."
"The council currently relies on the private sector market to provide most of the bed-based care and this process is becoming increasingly expensive. Our new, state of the art facility will allow us to be more cost efficient, whilst responding to the ever-growing demand for services by providing the very best in dementia care for our residents."
The Dementia Services Development Centre (DSDC), an international centre of knowledge and expertise dedicated to improving the lives of people with dementia conducted an independent review of the plans for the new home.
Dr Martin Quirke from the Dementia Services Development Centre at the University of Stirling says: "The overall scheme sets very high standards of dementia accessible design. It includes several excellent examples of the application of research evidenced dementia design principles that will support residents to overcome physical and cognitive impairments, helping them to maintain independence for longer."
The DSDC review endorsed a number of key features of the design plans agreeing that the location of the site is well placed to support and encourage resident independence, the 'household' layout of each unit has been well-considered and that plans for sunny and sheltered spaces on all floor levels, as well as south-facing gardens, can have a positive impact on residents overall wellbeing.
Other News