Festive fun at Southport home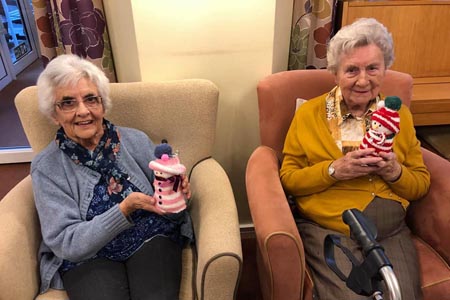 Residents at MHA Connell Court care home in Southport have been getting into the festive spirit by enjoying some 'Christmassy' activities over the past few weeks.
Staff at Connell Court have organised a range of festive goings-on for residents this December, including a pantomime performance of Puss in Boots, biscuit baking and a chance for residents to show off their creative flair while crafting sock snowmen.
As well as these activities, staff have arranged for some festive favourites to take place including a visit to the local church carol service, Christingle-making and a game of Christmas beetle drive, which they hope will remind residents of Christmases celebrated in years gone by.
However, the highlight of Connell Court's programme of festivities is their Christmas party, which will take place on 18 December. This event will give residents the opportunity to don their Christmas jumpers, listen to festive tunes from local singer, Ryan Gant, and enter the Christmas confectionery raffle. All prizes have been donated by the residents' families and members of the local community.
Anna Harvey, manager at MHA Connell Court, says: "Our team is passionate about creating a homely atmosphere for residents all year round, but this is especially important during the festive season. Our activities are designed to help residents get into the Christmas spirit by reminding them of familiar traditions and helping them to make new ones.
"Our festivities don't end on Christmas Day, however! MHA Connell Court will be bringing the New Year in with a bang, as we hold celebrations and help our residents think about their resolutions for 2020."
Other News