Hallmark secures planning consent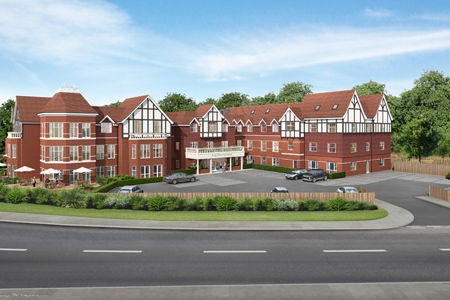 Hallmark Care Homes has secured planning consent for an 80-bed care home in Eastbourne, East Sussex.
The 2.5-acre site on Kings Drive has been purchased by Hallmark who will be supported by Savista Developments to build a brand new residential, dementia and nursing care home in keeping with the local area.
The state-of-the-art development, which will create 120 jobs when opened, will feature a wing of luxury suites. Communal areas inside the building include a café, cinema, hairdressers and therapy room as well as a piano lounge, winter garden and Victorian style orangery.
Each bedroom will have an en-suite wet room and many of those on the ground floor will have access to their own patio. Outside there will be half an acre of beautiful woodland and landscaped gardens for residents and visitors to enjoy.
Chair of Hallmark Care Homes and managing director of Savista Developments, Avnish Goyal says: "We are delighted to have secured planning permission for this wonderful facility that will be an asset to the community and local residents. We have a number of innovative ideas and new features that we are looking to showcase in late 2021."
Managing director at Hallmark Care Homes, Ram Goyal says: "I am looking forward to providing the Hallmark experience to another 80 residents at our community in Eastbourne. The luxurious home will provide residents with a safe space they can be supported to live an active and fulfilled life."
Construction will commence in April 2020 with the development scheduled to open the doors to its first residents in late 2021. The development will be the Billericay-based care group's 23rd care home.
Other News