York home receives 'outstanding' rating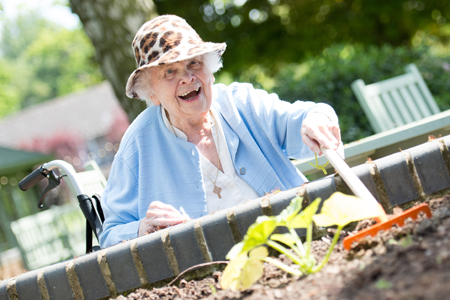 RMBI Care Co home Connaught Court in Fulford, York, has received an overall rating of 'outstanding' following a recent inspection by the Care Quality Commission (CQC).
The home, which provides residential, nursing and dementia care for up to 94 residents, is described by CQC as offering an exceptionally effective and well led service. The inspection also found that the home is a safe place to live and that staff are responsive and caring towards residents.
Connaught Court is now one of just a handful of care homes within the Vale of York to be rated 'outstanding'. It is also the third RMBI Care Co home to be assessed as 'outstanding'.
The report said: "Staff were friendly and demonstrated a passion for providing a good quality service. They demonstrated a good knowledge of people's personalities, diverse needs and what was important to them."
The inspection found that: "People were treated with kindness; they were actively listened to and their choices respected."
According to the report, published by CQC on 31 December 2019: "The management team were extremely knowledgeable in their role and passionate about people which directly impacted on outcomes for people. They ensured the person's needs were paramount and that best practice was being followed. This was evident in the ethos of the way the home was run."
The report also praised the quality of the home's dementia support: "The areas of the home where people living with dementia lived were clearly developed in line with best practice. They were homely and informal with a calm and relaxed atmosphere."
The inspection, carried out between 12 November and 20 November 2019, found that: "The management team and provider were deeply committed to continuous improvement that would benefit people using the service."
The report recognised how effectively the home's staff work in partnership with other health providers within the community, noting: "One visiting professional told us, "It's lovely. I go to different care homes every week. This is one of the best, if not the best."
CQC also highlighted the home's activity programme, designed to prevent social isolation. The report said: "People regularly engaged in the local community. They were supported to visit old schools, workplaces and events such as cricket games."
The report praised how residents were supported to remain as independent as possible: "People were encouraged to look after one of the many animals within the service including birds, rabbits and chickens."
Victoria Wilson, home manager at Connaught Court, said: "We are absolutely thrilled at receiving our 'outstanding' rating from the Care Quality Commission. We are passionate about ensuring an excellent standard of care at our home and committed to providing the best support possible for our residents. Our vision is that this is our residents' home, so it should be welcoming and full of warmth. Our motto is that it's not just a care home, it's a home with care."
Mark LLoyd, managing director of RMBI Care Co, said: "I am delighted to see Connaught Court being rated in the top two or three per cent of highly rated care homes in the country. We have an amazing team in place at the home who at all times focus on the wellbeing and quality of life of people living at the home. It is fantastic to see this reflected in our regulator's report."
Other News