Music charity to provide funding boost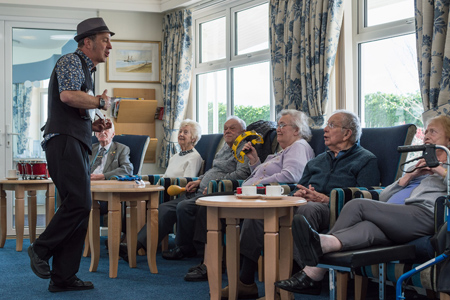 A music charity has received funding to provide three live music sessions for local communities across Fife.
Music in Hospitals & Care has received £900 in funding from Cairn Housing Association to continue its work visiting hospitals, hospices, care homes, day centres, special schools and community settings to spread 'Joy Through Live Music'.
The funding received will be used to provide a number of concerts this summer held in three of Cairn's housing developments - Calum MacDonald Court in Rosyth, Gilmour Court in Glenrothes and Aitkin Court in Kirkcaldy.
Sue Diamond, fundraising officer at Music in Hospitals & Care, says: "We are thrilled that we have been chosen as recipients of Cairn's community fund, which will bolster our efforts and bring more concerts to the communities surrounding some of the Cairn developments.
"Our bespoke live music sessions bring joyful memories and special moments for participants, their families and care staff whilst reducing isolation, anxiety and transforming healthcare spaces into a really positive environment.
"All of our professional musicians are chosen for their communication skills, so they are not only excellent musicians, but they are also able to interact and connect with participants in a range of healthcare settings.
"Last year we delivered almost 5000 live performances, reaching over 90,000 people in healthcare. This includes just over 2000 concerts and about 35,000 people across Scotland.
"The sessions at Cairn's developments are a great way to bring people in the local community together, encouraging those who may not often have the opportunity to leave their homes to come out and socialise while enjoying the music and having a bit of fun."
Since launching in 2013, Cairn's community fund has committed more than £60,000 to local causes around Scotland.
Jason MacGlip, chief executive of Cairn Housing Association, says: "Music in Hospitals & Care delivers such a positive impact everywhere they go. We are excited to welcome the charity into a number of our developments and bring some of that positivity to our tenants and the surrounding communities.
"We are delighted to support charities such as Music in Hospitals & Care to flourish further and bring joy to even more recipients.
"If you work within an organisation that has the potential to grow from extra funding to improve the quality of the lives of many, do not hesitate to submit your application for the community fund and we will do our best to help in any way we can."
Other News