CQC rates Vida Hall 'outstanding'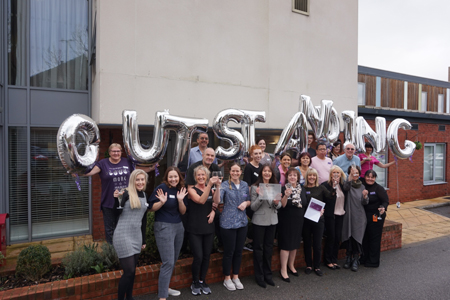 Vida Hall, a care home owned by Harrogate-based specialist dementia care provider Vida Healthcare, has secured an outstanding rating from the Care Quality Commission for the second time since its opening in 2013.
The residential care home which offers specialist accommodation and full-time care for people living with dementia joined the top four per cent of adult social care services following an inspection by CQC at the beginning of February.
The inspection highlighted the "exceptional dementia care" received by residents and the promotion of education-based practice which "fostered high quality, person-centred care" throughout the service.
James Rycroft, managing director at Vida Healthcare, says: "The commitment of the team at Vida Hall, highlighted in the inspection report, is what makes our care homes outstanding. We look for kind, caring and compassionate people who value the work that we do and you can see that in the choice and control the residents have over their lives.
"We now have an 'outstanding' rating for both our homes, Vida Hall and Vida Grange, and I'm looking forward to continuing this model which has proved to be such a success in our latest development, Vida Court, which is due to open in spring 2021."
Bernadette Mossman, healthcare director at Vida Healthcare, says: "We're always seeking feedback and advice, and proactively looking for innovative ways to drive improvement so it means a lot that our hard work has clearly paid off.
"While receiving an outstanding rating from the CQC is a prestigious industry accolade, we measure our success through the wellbeing of our residents. We want to make sure we recognise people's emotional and physical needs, and treat everyone as an individual no matter what stage of dementia they're at."
Wendy Korcu, registered home manager at Vida Hall, says: "I'm so proud that Vida Hall has achieved outstanding. It's an honour that my team has received the recognition they deserve for dedication, compassion and the skills they demonstrate every day."
Founded in 2010, Vida Healthcare was established to transform the provision of dementia care. Years of research has been undertaken to ensure cutting edge care is offered to every resident no matter their needs or stage of dementia.
Other News
Featured Supplier
Global leader in gas appliance manufacturing
Striving for reliable and consistent quality
In order to supply innovative heating appliances that make our lives more comfortable, Rinnai must develop and provide appropriate products while paying close attention to modern demands and problems. This requires advanced developmental and...