NuVu Life drinks to shake up nutrition for older people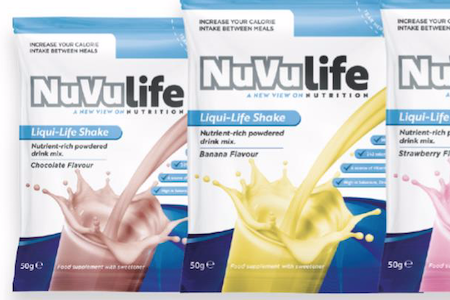 A new range of protein shakes has been launched by NuVu Life to help tackle malnutrition of older people, including those living in care homes.
NuVu Life is a high protein, high-energy powdered drink mix, enriched with a carefully-selected blend of vitamins and minerals.
The shakes are designed to provide extra nourishment to support healthy weight gain and normal functioning of the immune system in those who do not require a prescription.
According to the British Association for Parenteral & Enteral Nutrition, 1.3m over-65s in the UK have or at risk of malnutrition, and an average of 35% of care residents have a 'MUST' (Malnutrition Universal Screening Tool) score of one or two.
Older people have increased dietary protein requirements.
The European Society for Clinical Nutrition and Metabolism recommends healthy older people should have 1.0-1.2 g protein/kg body weight/day, while older people who are malnourished or at risk of malnutrition because of acute or chronic illness should consume 1.2-1.5 g protein/kg body weight/day.
When blended with 200ml whole milk, a 50g sachet of strawberry NuVu Life provides 23.8g of protein, around one-third of a healthy older woman's daily requirements.
Meeting those high protein requirements through an oral diet alone can be challenging, especially if a person has reduced appetite.
The NuVu Life formulation combines industry-led expertise with high-quality ingredients to deliver a nutrient-dense product which contains at least 100% of the recommended nutrient intake for zinc, selenium, magnesium, vitamin B6, vitamin B12, vitamin D and folic acid.
NuVu Life advocates a Food-First approach in people requiring extra nourishment by adding extra calories and protein to a person's diet.
That may involve choosing energy-dense meals, having additional snacks, fortifying foods or consuming nourishing drinks.
NuVu Life is a nourishing powdered drink mix which can be added to smoothies, milkshakes and milk-based puddings or enjoyed alone, when mixed with whole milk or water.
"When used alongside a 'Food-First' approach, NuVu's powdered drink shakes are a great way to help care for someone who requires additional nourishment and doesn't require a medical prescription," said a registered dietitian.
NuVu Life, which is available in strawberry, chocolate, banana and butterscotch flavours, can be purchased at www.nuvulife.com. The company is offering a 30% discount on orders using the voucher code CH30.
For sales enquiries, or to request a sample of NuVu Life, email [email protected] or call 07740 844 405.
Other News
Featured Supplier

Designing wall-coverings and murals for the care home sector is an area ATADesigns have been exploring for the past few years.  With an ageing population living longer, more and more care homes are being used.  Creating a safe and caring environment in a care home is important, and this includes its interiors.   I like to think that our...
Upcoming Events
Glasgow, Hampden Park Stadium
9th September 2021
Birmingham, NEC
15-16 September
Birmingham, NEC
13-14 October
London, Epsom Downs Racecourse
19th October 2021
Cardiff, Cardiff City Stadium
9th November 2021