Oakland Care to install summer houses for lockdown visits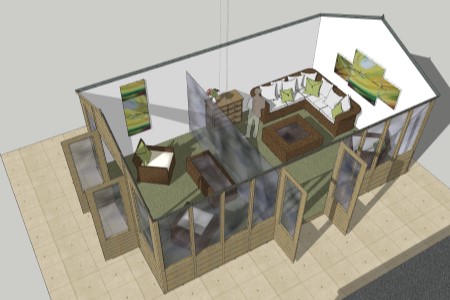 South-east England provider Oakland Care is introducing summer houses to facilitate visits during lockdown.
The company, which operates a total of four homes in East Sussex and Essex, will deploy the buildings in gardens to allow residents meet loved ones in safety.
Clear screens will be installed in the summer houses so both parties will be able to see and talk to each other.
Residents will enter from one side while up to two family members from the same household will be shown into the other side via the garden.
Half-hour visits will be booked via an online appointment system and the summer houses will be thoroughly cleaned and disinfected between each visit.
"We are, so far, free of coronavirus due to the measures we brought in very early on such a as closing our doors to visitors," said Oakland Care chief executive Joanne Balmer.
"However, we recognise that residents and families would dearly love to be able to see each other. We have been keeping people in touch via video calls but it's not the same as being in the same space together - this is why we came up with the idea of the summer houses," she added.
The homes will take delivery of the summer houses next week and should be welcoming their first visitors shortly after.
Oakland Care's homes - Lambwood Heights in Chigwell, Woodland Grove in Loughton, Hastings Court in Hastings and Beechwood Grove in Eastbourne - offer personalised residential, nursing, memory and respite care.
Lambwood Heights, which opened in February, is also offering a 'Senior Shielding' package, which gives those who may be without their usual domestic support or who might be struggling with shopping or managing their home, a short stay in a separate part of the home that is Covid-secure.
Other News