Meiko Bottle Washer - faster than competitors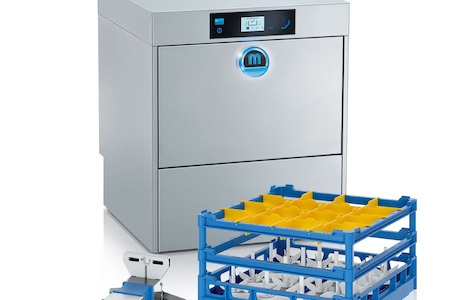 Our planet is drowning in plastic waste. And disposable plastic is a big part of the problem.
The catering industry is switching to providing guest water in re-usable bottles, carafes and jugs. These create a more tailored service and are a logical switch from single-use plastic.
Removing plastic bottles from bedrooms, conference, meeting rooms and restaurant tables will save plastic; but how do you wash bottles, inside and out, maintaining top-level hygiene without using too much labour and chemicals?
This is why Meiko has launched its own BOTTLE WASHING SYSTEM, almost twice as fast as the competition! Find out more here: https://www.meiko-uk.co.uk/en/campaigns/meiko-bottle-washer/
"Meiko's new bottle wash rack and adapter are a fast, efficient and simple solution for all standard bottle sizes and shapes," says Meiko UK MD Paul Anderson.
"Washing bottles usually requires bespoke washing solutions tailored to an individual bottle size. But Meiko has engineered a robust solution that is also fast and provides the guarantee of total hygiene that caterers demand.
"Caterers choosing Meiko equipment can be assured that the washing results provide the highest level of hygiene, tested to DIN 10534. Meiko dishwashers deliver a high temperature wash and rinse certified to kill the coronavirus as well as bacteria such as E-coli 0157 which is responsible for many instances of food poisoning."
To use Meiko M-iClean UM dishwashers as bottle washers, the bottom wash arm is replaced with the bottle wash adapter.
This patented system uses separate, sealed channels to first send wash fluid into the bottle, then separately, rinse aid. Specially designed nozzles spray the chemicals directly into the bottles, along with water, guaranteeing that the full power of the jet enters the bottle – ensuring that everything is hygienically cleaned.
Meiko UM machines have a theoretical capacity of 40 racks or 640 bottles per hour *(competitor 480) and each Meiko rack can hold up to 16 bottles (competitor 8), so the Meiko system is much more productive.
What's more, the Meiko Bottle Washer takes bottles up to 114mm wide (competitor 100mm) and up to 370mm tall.
The Meiko bottle washing system is suitable for all M-iClean UM/UM+ machines. The flexible plastic rack is suitable for a wide range of bottle sizes (up to a diameter of 114 Millimeter) and heights and can even be retrofitted for all M-iClean UM and UM+ undercounter dishwashers from 2009.
See more about Meiko UK Limited
Other News
Featured Supplier
BES Healthcare has been serving the industry for over 25 years, providing world class infection prevention and assistive technology solutions to institutions and businesses, from care homes to NHS hospitals. We work with and support our customers in finding the best solution for their needs, be it air and surface decontamination or daily living...
Upcoming Events
The King's Fund, Cavendish Square, Marylebone, London W1G 0AN
22nd June 2021
Liverpool, Aintree Racecourse
13th July 2021
Glasgow, Hampden Park Stadium
9th September 2021
Birmingham, NEC
15-16 September
London, Epsom Downs Racecourse
19th October 2021
Cardiff, Cardiff City Stadium
9th November 2021