Wessex Care sees light in UV-C Covid decontamination tech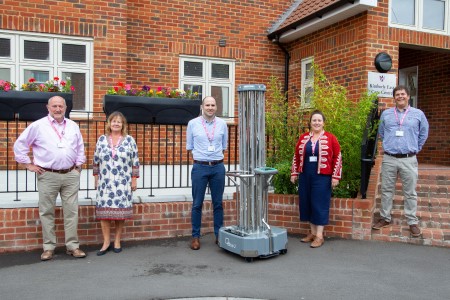 Wessex Care has become the first provider in the UK to commission an ultraviolet-C (UV-C) light decontamination technology in the fight against the coronavirus.
The Salisbury provider has deployed an Ultra-V device - a remote-controlled mobile decontamination robot - developed by infection prevention and control company Inivos.
The device is designed to eradicate pathogens including SARS-CoV-2, which causes the Covid-19 virus.
Invios claims the UV-C light technology can reduce viruses and bacteria to safe, non-infective levels in eight minutes by breaking down their genetic code.
Ultra-V provides validation reports at the end of each cycle to inform operators that a decontaminated area is safe for residents.
"We're so pleased that Wessex Care have taken the step to commission Ultra-V in their facilities. Our ultraviolet-C and hydrogen peroxide vapour technologies are already used by more than a third of NHS Trusts," said Invios head of research and development Tautvydas Karitonas.
"However, we believe that clinical decontamination technology will soon become the norm in care homes as forward-thinking providers like Wessex look to secure best-in-class technology to ensure the continued health and wellbeing of their patients during this pandemic," he added.
Wessex Care founding director Matthew Airey said: "We're proud to be the first care provider to take this step meaning our staff, patients and their loved ones can continue to be confident in the quality of care provided at Wessex.
Other News