Runwood Homes on Doncaster construction final straight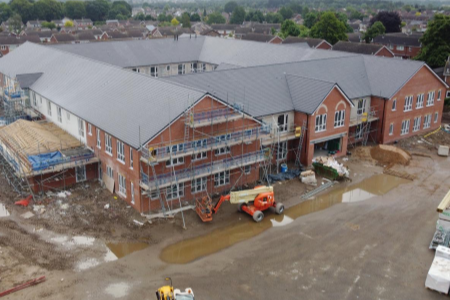 Care provider Runwood Homes is close to competing construction of an 81-bed home in Doncaster due to open to residents in September.
The purpose-built home named Liberty House, which is owned and to be operated by Runwood Homes, in partnership with Doncaster Council, aims to offer seniors over the age of 65 a desirable place to live with round-the-clock care.
Residents will have access to a café, complete with a self-serve option, to entertain their fellow residents and visiting loved ones, when it is safe to do so.
Facilities at the care home set over two floors will also include a salon for hairdressing and beauty therapy, a cinema room/quiet space lounge, an activities room, dedicated sensory areas for those living with dementia, as well as several lounge and dining areas.
All bedrooms will offer ensuite facilities, a TV, telephone point and wifi and everyone will have access to safe outdoor living.
Outdoors, an enclosed, fully-furnished quadrangle will be finished with plants and shrubs, while a landscaped garden will feature BBQ facilities.
"Our distinct knowledge and experience within the care sector allows us to marry up the most ideal and safe living environment for older people, including those living with memory loss, together with our existing professional care team, to provide an optimal offering for care seekers – with robust infection prevention and control measures in place as standard to best protect everyone," said Runwood Homes director of construction and facilities Tom Sanders.
The September opening will coincide with a project, in partnership with Doncaster Council, to transfer residents from nearby homes to Liberty House.
Other News