Vida stretching class draws positive results for dementia residents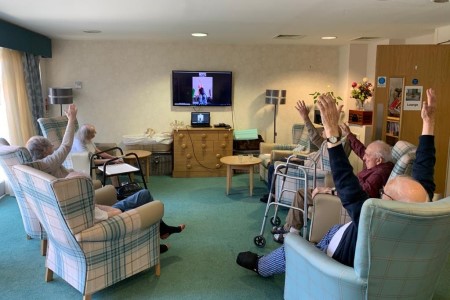 Care provider Vida Healthcare has hailed the positive outcomes from an innovative stretching class for residents living with dementia.
The company said the class at its Vida Grange and Vida Hall care homes in Harrogate is having "transformational results", including many of the residents with dementia memorising and maintaining basic stretching routines.
Vida believes incorporating movement into everyday life can significantly improve the wellbeing of people living with dementia. Benefits can include reduced risk of certain cancers, increased mobility, greater self-esteem and more independence when carrying out daily tasks.
"Residents are keen to take part and they remember the time of the stretching classes, and are able to memorise and maintain basic stretching routines. This is a significant milestone for many of our residents, especially those living in the later stages of dementia," said Vida Hall wellbeing lead Charlotte Gibbs.
"We've seen specific people benefit from the classes, for example one resident* broke their shoulder three years ago and since we've introduced the stretching they've achieved a greater range of motion than previously possible," she added.
The class is delivered by Emma Flett, a tutor in acting and movement at The Drama Studio London, part of The University of West London.
Flett, a former West End actress, said: "Residents really enjoy the sessions and I can see improvements each week".
"This time gives both staff and residents the opportunity to do something different and strengthen their bond which has been especially important during lockdown when loved ones haven't been able to visit," she added.
Other News