CQC praises Wavewash handwash timer for Covid good practice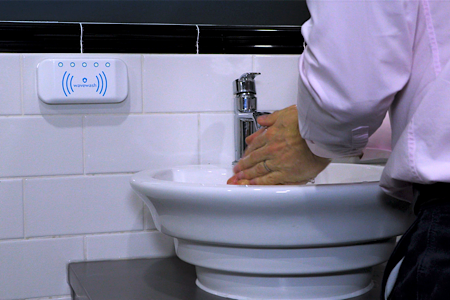 The Wavewash hand washing timer has been highlighted as an example of good practice by the Care Quality Commission (CQC) as part of a thematic review in response to the Covid-19 pandemic.
Made in East Anglia and launched this summer, Wavewash uses LED lights and sounds to help a user wash their hands with soap and water for the recommended 20 seconds to remove almost all micro-organisms from their hands - including Covid-19.
The CQC carried out targeted inspections of 300 care homes in England to gather information on their experiences and preparedness for future spikes of coronavirus.
One of the care homes to be inspected was The Lodge care home in Essex, which provides accommodation and personal care for up to 36 older people, including people living with dementia.
The CQC's inspection report of The Lodge identified Wavewash as an example of good practice, alongside measures such as clear signage, thermal scanners, hand gel, plastic screens and face masks.
In their inspection summary of The Lodge care home, the CQC inspectors noted: "The provider had installed 'Wavewash' timers in areas where staff washed their hands. The timers use lights as a visual aid to count down the time needed to effectively wash hands."
Tom Lyons, managing director of Black Swan Care Group, which owns The Lodge and 19 other care homes in Norfolk, Cambridgeshire, Essex and Lincolnshire, said: "We're really impressed with Wavewash which we now use in all of our care homes to help staff and residents wash their hands thoroughly."
Wavewash co-founder Martin Hurworth added: "When we created Wavewash during the lockdown in Spring, we knew that it could play a vital role in care homes which do their utmost to protect the vulnerable people they look after.
"Washing your hands is a simple and effective way to prevent the spread of coronavirus, and everyone can do it. We're delighted that patients and staff at The Lodge have taken to Wavewash so well and we're really pleased that the CQC has recognised the role it can play."
Other News