Crewe to take Avantage of TODD Architects extra care scheme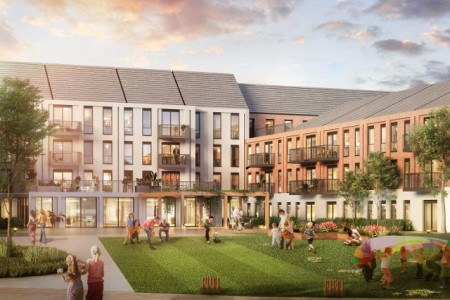 Retirement living developer Avantage has secured consent to build a 132-apartment extra care facility in Crewe designed by TODD Architects.
The Beechmere facility approved by Cheshire East Council will replace a scheme that was devastated by a fire in last year and displaced nearly 150 residents.
Beechmere is to be built within the same footprint of the original building but will offer a more contemporary approach to assisted living.
The scheme aims to provide residents with a community focused environment and will comprise two-bedroom apartments along with a restaurant, village hall, lounge, winter garden, fitness suite, activity room, IT room/library, hairdressing salon, and various support services.
The apartments are mixed tenure but will be predominantly affordable housing for rent with a proportion for shared ownership and the remainder for sale.
TODD Architects' design for the new Beechmere will see a three-storey, H-shaped building constructed with a four-storey atrium connecting the two wings.
The atrium will form the busy hub of the community, with various activity centres branching off, including the library, lounge, village hall and craft room.
Those facilities will overlook and open into the community village garden, enhancing resident experiences by creating views 'to', 'from' and 'between' the internal and external surroundings.
An informal café area will spill out into the atrium from the south-facing restaurant, which has a terrace and outdoor eating area.
"We have designed Beechmere to primarily be an enabling environment for the residents, supporting their individual care needs and providing lifestyle choice," said TODD Architects director Andrew Murray.
"Beechmere also creates a 'bridge' for older people in the surrounding community who will be actively encouraged to participate in events and to make use of the facilities within the development," he added.
Other News