Jobs site sees surge in young people eyeing care careers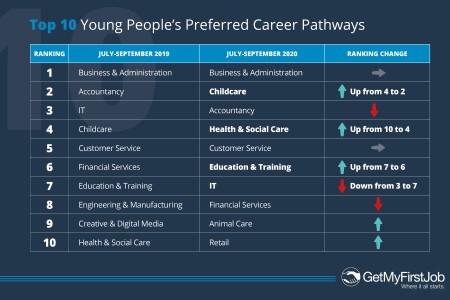 Figures revealed by jobs site GetMyFirstJob show Covid-19 has had a major impact on career preference with a big rise reported in young people wanting to work in health and social care.
Comparing data from July-September to the same period a year ago, the number of people who expressed a desire to work in health and social care rose by 79 per cent.
That represents the largest rise of any sector, followed by childcare which rose by 66 per cent, and education & training which rose by 50 per cent.
GetMyFirstJob said the figures are part of one of the most robust national assessments of post-education career preference.
Over 25,000 school, college, and university leavers register with the social enterprise every quarter and specify which sectors they would prefer to work in.
Julie Hyde, executive director for education & training strategy at awarding organisation NCFE, said health and social care employers must use this rise in popularity to their advantage.
"We cannot underestimate the impact so far of the recruitment challenges faced by the health and social care sector, struggling with a critical shortfall in qualified staff and a historical drop in the number of young people and apprentices being recruited to fill the gap," she added.
"We need to see an equal desire from employers to being open to recruit younger adults for these crucial roles."
Aaron, 18, from Bristol hopes to embark on a career in the care sector. "During lockdown I realised how much I like helping and caring for people," he said.
"A career in care would provide me with a very satisfying and fulfilling way to earn a living and a great way to give back to others using my talents and passion. People want to work in this sector because we want to help, especially as I'm young – the virus might not affect us so much but we want to look after older people and make sure that we can give back to them."
Other News