Scotland to allow two designated visitors from early March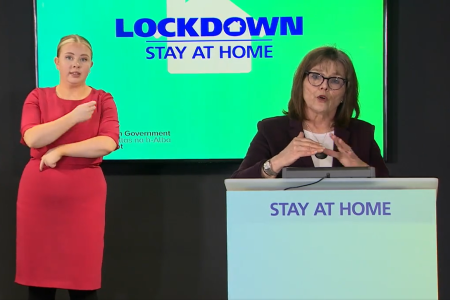 The Scottish government has confirmed care home residents will be allowed two designated visitors and one visit a week for each from next month.
Routine indoor visiting of care home residents by relatives, friends and carers will be able to resume from early March, Scottish ministers said in a statement.
Guidelines to be published on 24 February will set out how care providers can resume visiting for up to two designated visitors per resident.
Visitors will need to wear face coverings and any PPE requested by the care home, and are strongly encouraged to take a Covid test on-site.
While visiting may sometimes still be restricted, for example in the event of an outbreak at a care home, the expectation will now be that homes will facilitate regular weekly contact as long as certain safety conditions are met.
The Scottish government will then work to continue to gradually increase the frequency and duration of contact.
"The decisions regarding restrictions on visiting for care home residents have been some of the most difficult we have faced and I have the greatest sympathy for those who have been unable to see relatives and loved ones in person for so long.
"We must remain vigilant about the risks but with multiple layers of protection now in place the balance is in favour of allowing visits. Everyone, including visitors, has a responsibility to ensure that visits take place as safely as possible by continuing to follow safety advice," said Scottish Health Secretary Jeanne Freeman (pictured).
"The additional protection in place includes infection prevention and control measures (IPC); personal protective equipment (PPE) in care homes and testing of staff and visiting professionals to care homes, which have developed processes and protocols for safer indoor visiting to take place," she added.
Freeman continued: "The guidance we are publishing sets out an expectation that providers will put in place arrangements to enable regular visits to resume from early March and from the discussions I have had with providers, I now expect all care homes to have embraced this guidance by mid-March."
Other News
Featured Supplier

Intastop Ltd has been leading the way in the specialist fields of anti-ligature products and door and wall protection for over 20 years. This pedigree, combined with the company's commitment to new product development and leading edge innovation, ensures Intastop remains a leading manufacturer and supplier to the healthcare, public and leisure...