Digital strategy enhances care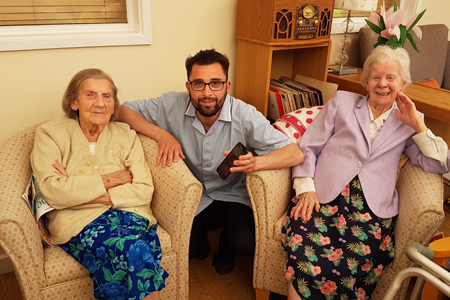 CHS Group, the Cambridgeshire charitable housing association and social enterprise, has introduced Nourish, an electronic care management platform, to three of its residential care homes - Alex Wood House and Langdon House in Cambridge, and Vera James House in Ely.
In line with both CHS Group's digital strategy and its corporate objective to provide excellent services that respond to customers' needs, the introduction of the new platform enables care teams to plan, record, report and co-ordinate care while on the go – reducing the admin process and allowing more time for staff to interact with residents.
Nourish enables staff to record more accurate details in less time and the information is shared across the whole team. For example, when residents require monitoring for fluid intake, the system automatically calculates quantities when information is entered by staff, and alerts staff if residents are not having enough to drink. Daily notes writing is accelerated and handovers and risk assessments are automated. There is also a reduction in paperwork, such as separate charts and medication records.
Beryl Gillespie, head of older people's services, CHS Group, comments: "We're really excited about the introduction of this new system. Early results show improved productivity, a reduction in errors, and staff and managers' time is freed up - allowing them to focus on quality care rather than administrative tasks.
"There is a better work balance for staff, allowing more time with residents and less on administration, increased job satisfaction, as well as improved quality of personal care and activities for residents."
Other News