Underwater themed artwork unveiled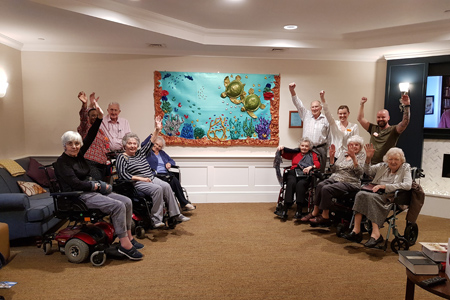 Sunrise of Chorleywood recently encouraged residents to express and enhance their creativity by taking part in an incredible 3D art project.
Maintenance manager Patrick Maher came up with the idea for an art piece and consulted with all the residents to decide what the theme for their creativity-enhancing project could be. In total, 60 residents at Sunrise of Chorleywood in both assisted living and the Memory Care Neighbourhood helped to create the masterpiece on a large canvas. It took two months of hard work.
The artwork, produced masterfully using a combination of paper mâché and metallic paints, is a 3D underwater scene, appropriately named 'Hearts of the Ocean'. The paper mâché aspect was very challenging and residents showed incredible artistic skills in completing the piece to such a high standard; some of the paper mâché features included sea turtles, fish and seaweed.
On Friday 13 December 2019, Sunrise of Chorleywood held an event to officially unveil the artwork. It was unveiled by VIP guest Dr Paul Stewart, BAFTA and Emmy award nominated producer and the cameraman behind Planet Earth with Sir David Attenborough. Sunrise of Chorleywood's head chef and inhouse dining team also produced an impressive, freshly made assortment of delicious food for all of the guests to enjoy.
A resident who took part in the art project, says: "After my first initial involvement of moulding papier mache, I progressed onto painting the undercoat of shellfishes and later the undercoat of a large turtle and some coral. My final delight was literally peppering some fish with glitter.
"Up to this point, I had only seen a large blue canvas, completely bare, but days later at the unveiling, I gasped with delight! The completed artwork was magnificent! Dozens of residents had contributed to the project, but the chief plaudit goes to Patrick for his vision, his hard work, and his belief that everyone can contribute in any small way to creating a memorable work of art."
Patrick Maher, maintenance manager at Sunrise of Chorleywood, says: "We are so proud of all residents for producing an incredible piece of artwork. They poured their hearts into this project and you can really tell from the fantastic finished piece.
"I am overwhelmed by the talented and determined residents we have at Sunrise of Chorleywood, especially given the difficult 3D aspects involved in creating this masterpiece - a huge congratulations to everyone involved!"
Other News