Care sector slams PM Covid 'procedures' comments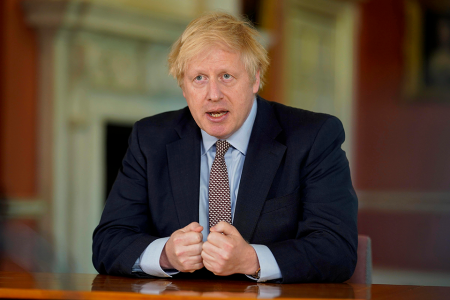 Prime Minister Boris Johnson has come under fire from the care sector after saying care homes did not properly follow procedures during the Covid-19 outbreak.
Responding to calls by NHS England for the government to introduce social care reform within a year, Johnson said "too many care homes didn't really follow the procedures in the way they could have".
The pandemic has led to the deaths of around 20,000 care home residents in England and Wales.
Many in the sector have criticised government guidance in the early stages of the pandemic that saw thousands of hospital patients discharged in care homes without being tested for the coronavirus.
National Care Forum executive director Vic Rayner said care homes had followed government guidance "to the letter" and Johnson's comments were "neither accurate nor welcome" and "hugely insulting" to care workers.
"There will be a lot of people within the care sector who feel that their efforts have gone unrecognised and who I think will feel rightly aggrieved that all the hard work and enormous effort they've put in hasn't been acknowledged," she told BBC Newsnight.
Independent Care Group chairman Mike Padgham meanwhile accused of Johnson of playing the "blame game" and said it is "wrong to criticise care and nursing homes at this time".
"It is worth remembering that in February the government agency Public Health England told homes it was 'very unlikely that people receiving care in a care home will become infected' and that homes didn't need to do anything differently," he added.
"It was many weeks later, after most homes had already put themselves into lockdown, that the advice changed."
Community Integrated Care chief executive Mark Adams said Johnson's comments were "clumsy and cowardly", while shadow care minister Liz Kendall said the sector had been "abandoned" by the government. "This attempt to shift responsibility is a new low," she told the BBC.
Jonathan Cunningham, chairman of the North and South Sefton Care Home Group that represents 132 care homes, said the Prime Minister's remarks were "crass".
"The announcement that care homes were in some way to blame for the scale of deaths is an absolutely abhorrent and disgusting attempt to shift the blame and responsibility onto those who have been fighting this vile virus with one arm tied behind our backs," he added.
Business Secretary Alok Sharma later defended the Prime Minister, saying "care homes have done a brilliant job throughout this pandemic in terms of dealing with the whole issue around the coronavirus."
"What the Prime Minister was pointing out is that nobody knew what the correct procedures were because we know that the extent of the asymptomatic cases was not known at the time," he told BBC Breakfast.
Other News
Featured Supplier

Designing wall-coverings and murals for the care home sector is an area ATADesigns have been exploring for the past few years.  With an ageing population living longer, more and more care homes are being used.  Creating a safe and caring environment in a care home is important, and this includes its interiors.   I like to think that our...
Upcoming Events
The King's Fund, Cavendish Square, Marylebone, London W1G 0AN
22nd June 2021
Liverpool, Aintree Racecourse
13th July 2021
Glasgow, Hampden Park Stadium
9th September 2021
Birmingham, NEC
15-16 September
London, Epsom Downs Racecourse
19th October 2021
Cardiff, Cardiff City Stadium
9th November 2021